Conference on the UN Declaration on the Rights of Indigenous Peoples
Description
2017 marks ten years since the adoption by the United Nations General Assembly of the UN Declaration on the Rights of Indigenous Peoples (the Declaration) making this an opportune time to reflect on the Declaration's impact and relevance to the community.
Massey University-based Global Centre for Indigenous Leadership and the New Zealand Human Rights Commission invite you to attend: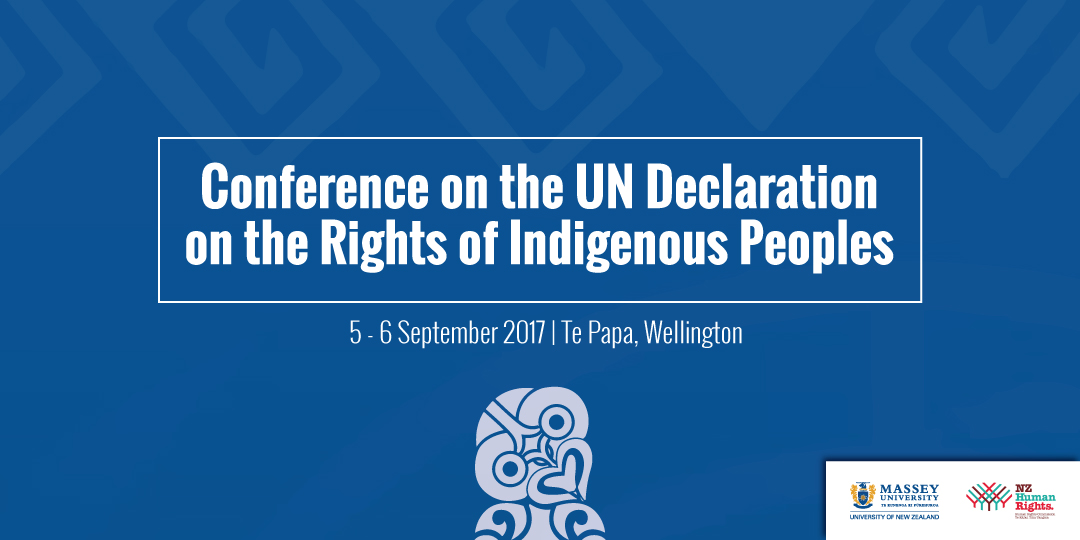 The conference, which is free to attend, will seek to address the balance between the Declaration's social, cultural, economic and environmental dimensions, and the opportunities it holds for realising Maori and Indigenous peoples' potential.
The two-day conference will feature panel discussions on a range of Declaration related topics and issues, a political party leaders debate, interactive workshops and an exciting line-up of speakers and facilitators including: Assoc Professor Sheryl Lightfoot (University of British Columbia, Canada), and Professor Steve Larkin (University of Newcastle, Australia), Hon Dr Sir Pita Sharples, Dr Claire Charters, Anaru Erueti, Edwina Hughes, Moana Jackson, Pereri Hathaway, Dr Carwyn Jones, Professor Selwyn Katene, Aroha Mead, Dr Jason Mika, Pania Newton, Dr Farah Palmer, Valmaine Toki, Professor Rawiri Taonui, Fleur Te Aho, Tracey Whare, Dr Pushpa Wood, Dr Ganesh Nana, Prof Rawinia Higgins, Prof Meihana Durie, Sir Wira Gardiner, including Maori Political Panel comprising Hone Harawira, Metiria Turei, Te Ururoa Flavell, Nanaia Mahuta, and facilitated by Dr Maria Bargh.
We hope that by bringing together historical and current thinking and perspectives on the Declaration, participants will be able to assist in the future realisation of its goals in Aotearoa. By the end of the conference, we hope to construct a framework for positive Māori and Indigenous peoples' development, including implementation of the Declaration, with a strong focus on community.

Day two of the conference will feature four interactive workshops covering a range of themes related to the Declaration and its impact and relevance to the community. Each workshop will be repeated once during the morning on Day 2 giving participants the opportunity to attend two of the four workshops.
To register your interest in attending these workshops, please indicate which of the two you would like to attend in the Tickets section - this can be found by clicking on the green Register button. Spaces are limited and tickets will be assigned on a first-come-first-served basis.
W1 - How to use UN documents that support Indigenous peoples' rights in written and oral submissions
This workshop will look at ways in which UN documents such as the UN Declaration on the Rights of Indigenous Peoples, recommendations of the Special Rapporteur on the Rights of Indigenous Peoples as well as recommendations of UN Treaty monitoring bodies can be used to support written and oral submissions. Examples that will be considered include parliamentary bills, government policy documents, internal organisation policy documents, resource consent applications, legal submissions for court cases and Waitangi Tribunal claims.
Facilitated by Fleur Te Aho and Anaru Erueti
W2 - Accessing UN processes from home
This workshop will look at two parts of the UN: the Special Rapporteur on the Rights of Indigenous Peoples and human rights Treaty body monitoring bodies. The workshop will consider the mandates of these two entities, how to engage with them and the results you can expect.
Facilitated by Dr Claire Charters and Edwina Hughes
W3 - The role of the New Zealand Human Rights Commission
This workshop will consider the Commission's work in relation to Indigenous peoples' rights, in particular, its enquiries and complaints process, the role of the Office of the Human Rights Proceedings, the role of Commissioners, and the Commission's domestic and international engagement and advocacy.
Facilitated by the New Zealand Human Rights Commission
W4 - International indigenous advocacy
This workshop will look at what can be achieved by attending UN meetings - in particular, the UN Permanent Forum on Indigenous Issues and the UN Expert Mechanism on the Rights of Indigenous Peoples. The workshop will also consider other potential points of access within the UN, as a result of a new development to enhance the participation of Indigenous peoples' representative institutions.
Facilitated by Tracey Whare and Valmaine Toki