CONQUERING THE JUGGLE: Having a Healthy, Happy Work/Life Balance With Vicki Millar
About this event
CONQUERING THE JUGGLE
Speaking from her own experiences, Vicki will outline for you her 4 Keys to Work/Life Balance. You'll explore how to live authentically heart-centered as well as productive, with practical tips to live 'more than a conqueror'. And most importantly, how you can connect with God as your most powerful partner in business and in life.
About Vicki Millar
Vicki Millar incorporated her first business in 2012, as a production company for her own original stage musicals. With an M.A. from the University of London, she has worked in New Zealand, Australia and the U.K. as a writer, performer, composer and musician.
Vicki has also juggled many other jobs to finance her creativity, from admin to retail to childcare, balancing her work and personal life while pursuing her creative dreams.
Vicki is also the founder of 'Creatives on Purpose', a coaching business empowering writers, artists, musicians and entrepreneurs. She specialises in helping people clarify what they want, create a roadmap to get there, and shift mindsets to take action - so they can achieve the lives they're imagining.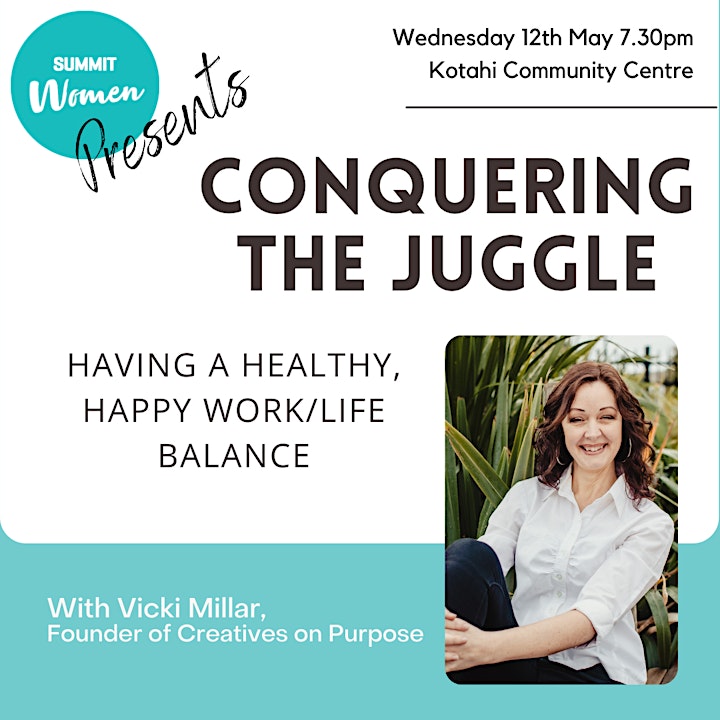 Organiser of Conquering The Juggle - Having a healthy, happy work/life balance
Staci McLean is an inspiring author and a speaker. Whether she is colouring her hair crazy colours or travelling the world or just jumping on the trampoline in her garden, Staci has a determination to get the most out every day and to create a purposeful life.
Staci is passionate about motivating people to come out of the shadows, step into challenges and experience fun and excitement. She has not had an easy life and has faced major challenges including alcohol addiction, depression, and grief, but she has overcome the obstacles and her excuses to discover a life of full of joy, happiness, and fulfilment.
Find her on www.stacimclean.co.nz