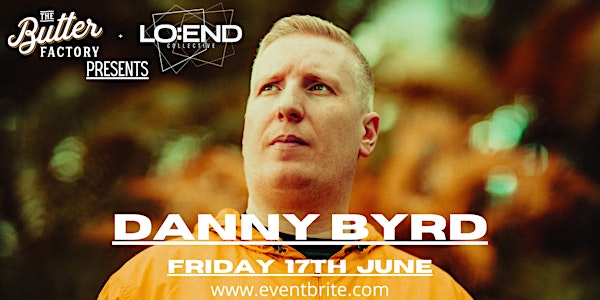 Danny Byrd (UK)
The Butter Factory & LO:END
Location
The Butter Factory
8 Butter Factory Lane
CBD
Whangarei, Northland 0110
New Zealand
Drum & bass icon and king of the dance floor, Danny Byrd
About this event
One of the very first artists to sign to the fledgling Hospital label way back at the turn of the millennium, Danny Byrd's own inimitable take on soulful, vocal Drum + Bass has become a staple in the scene. His use of hip-hop, house and R&B influences has turned heads ever since his inception. The Bath based, brandy-drinking producer has been responsible from some massive rave anthems over the years, which has gained him Radio One success and international recognition.
Having signed to the label in the early noughties, Danny Byrd released a number of singles, such as "Do It Again" (2000), "Changes" (2001) and "Dog Hill" (2006), However, it was not until 2008 that Danny delivered his long awaited debut long player "Supersized". Having spent years honing his craft, the album was an excellent display of his skills and featured massive anthems such as "Shock Out", "From Bath With Love" and "Red Mist (feat I-Kay)". The album gained support from Radio One heavy hitters such as Annie Mac and Zane Lowe, as well as the mighty Andy C. The VIP version of "Red Mist" catapulted its way onto the daytime Radio One playlist and received over six hours of Radio One play in 2009, all to itself!
Danny's next major release was an update of liquid rave classic "Sweet Harmony" (feat. Liquid). The hit single reached number one in the UK dance singles chart and took Danny's sound to a whole new audience. Championing a revival of classic dance music sounds along with his own unique and forward thinking production the second Danny Byrd studio album "Rave Digger" was unleashed October 2010. The lead single "Ill Behaviour feat I-Kay" smashed it's way into the UK top 40, swiftly followed up by Radio One play listings for "We Can Have It All" and "Tonight (feat. Netsky)".
Entering 2011, the "Rave Digger Special Edition" was released and later in the year, Danny launched his short-lived but impressive live show at Hospitality Brixton in September. Bursting back onto the scene in 2012 with the incendiary "Blaze The Fire (Rah!)", Danny teamed up with the legendary General Levy for this smash hit single ahead of his third artist album which dropped in 2013.
His latest album, 'Golden Ticket' features a high calibre supporting cast of featured artists and a broad sound palette. It takes in the full spectrum of UK garage, house, hip-hop and has ensured his lasting status as a Drum and Bass icon.