Derek will consider the Democratic Party's campaign, what a Biden administration might look like, and why this election is so important
About this event
Scholar and diplomat Ambassador Derek Shearer will discuss what is at stake in the Trump-Biden contest--for the US and for the international community. He will explain the state of the race after the Democratic and Republican conventions as the campaigns gear up for the fall.
Will Biden win? Will the election be challenged? Will the Russians try to influence and disrupt the voting on behalf of Trump? If Biden wins, what challenges will he immediately face and what might his economic and foreign policy teams look like? What are the consequences for New Zealand?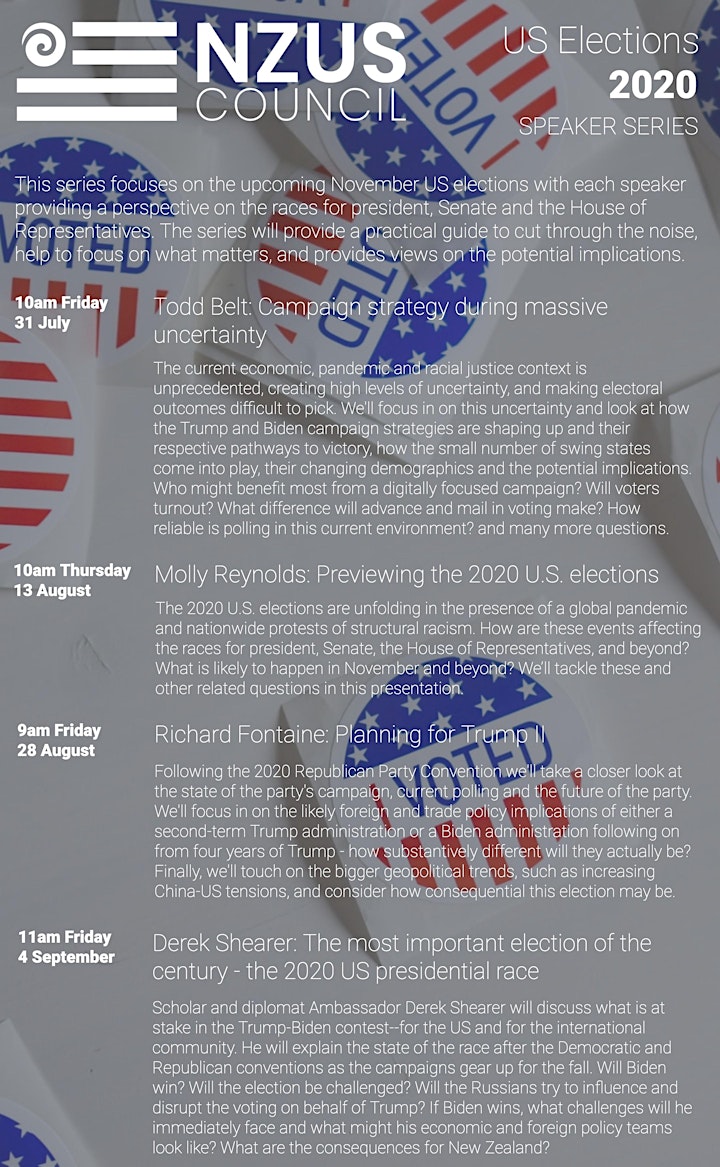 Derek Shearer (Professor, Diplomacy and World Affairs, Occidental College)
Ambassador Shearer has been a senior economic and foreign policy advisor to both Bill and Hillary Clinton in their campaigns for the Presidency. He served as US ambassador to Finland in the Clinton administration, and was a foreign policy advisor to Al Gore in his 2000 campaign. He also was an advisor to the heads of the US Pacific and Central Commands. Ambassador Shearer has been a public diplomacy speaker for the US State Department in over 20 countries in Europe, Asia, Latin America and the Middle East.
He holds the Chevalier chair of diplomacy at Occidental College where President Barack Obama studied and directs the college's McKinnon Center for Global Affairs. He is the author of America and the World in the Age of Obama, numerous articles in leading newspapers, journals and magazines as well as works on political economy.
In addition to courses on diplomacy, terrorism, and US foreign policy, Ambassador Shearer has taught courses on entrepreneurship, served on the boards of media and food companies, and as an international advisor to Ziff Brothers Investment Co, and other firms. He has served on the board of the nonprofit relief group Operation USA, and is a member of the Pacific Council on International Policy and the Los Angeles World Affairs Council. He currently resides in Pacific Palisades, California with his wife Sue Toigo, and Vera the cat.