Design and make a Character Pop Toy Workshop

Tuesday, 18 February 2014 from 7:00 pm to 9:00 pm (NZDT)
Event Details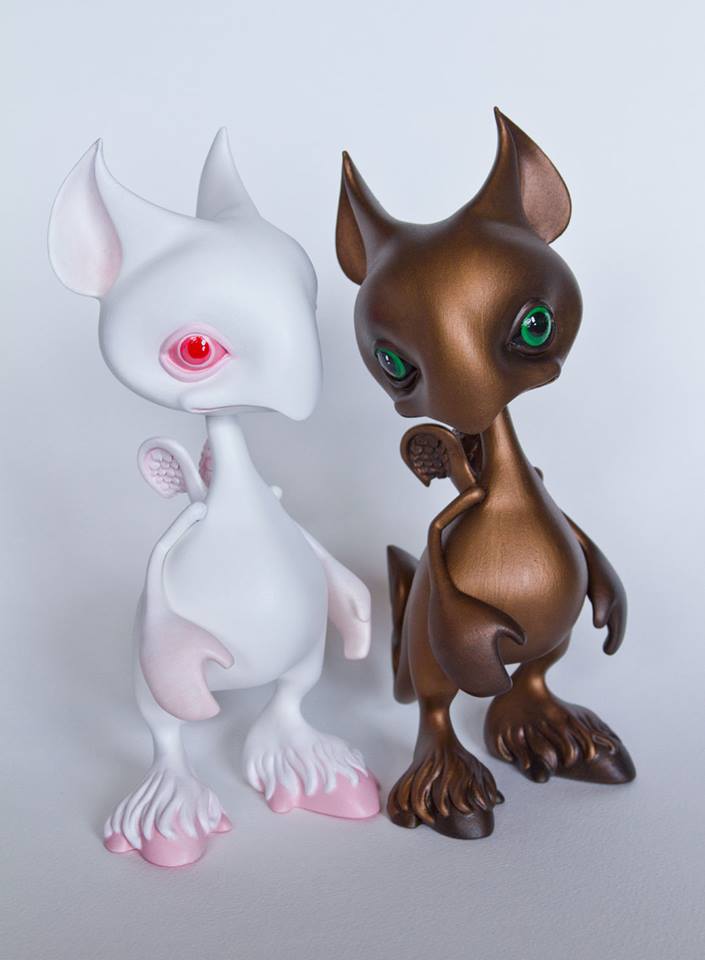 Workshop description: Evening class,
Tuesday evenings 2 hr 7-9pm over 5 weeks [10 hr total]
18th Feburary - 18th March 2014

Through five evening classes students will be introduced to the imaginative world of character design through the design and development of their own pop surreal character toy.
Inspired by the Pop-Surreal movement which has evolved an empire of quirky imaginative characters, Tanya and Garry will demonstrate the process of design development from concept design, sculpture and mould making through to the final toy product.
We hope that by the end of the workshop students will have a finished toy that is reproducible as a limited run urban toy.

This workshop will suit both students who already have a strong idea, and also nurture those who are new to this genre, guiding them through the design process, to help them achieve their goal of creating a tangible result.

In this workshop students will explore:

• Character design development through drawing
• 2D & 3D visualisation
• Materials and process
• Sculpting and modelmaking through a character lead focus
• Mould making and casting
• Paint Finishing and accessorising

This workshop will primarily be run as a physical hands on sculpting class, however if students feel they are competent with 3D digital sculpting software such as Maya and Zbrush then they will be supported in following this output.
Wellington Makerspace has resources for 3D printing. Students wishing to follow this avenue will be expected to supply their own laptops with the necessary programs [Maya / Zbrush] Digital students will still be encouraged to reproduce their designs through traditional mould making and casting techniques.

Tutors
The workshop will be lead by Tanya Marriott who is a multidisciplinary lecturer at Massey University. Tanya specialises in interactive design and play, character and toy design, film and animation. Her work seeks to build meaningful experiences and storytelling opportunities between digital and tangible activities, through character focused practice. Tanya is also a highly skilled and accomplished character sculptor and doll maker with over 20 year experience. She is the president of the National Institute of American Doll artists, and a Lecturer in Digital Media at  Massey University

Tanya will be supported by Garry Buckley who has a background in the toy industry, having worked as a senior designer at London based toy design / inventors Seven Towns Ltd. Garry's personal work has always held a strong pop surreal influence which transpires in his current toy designs. Garry has recently been a concept modeller for the Hobbit Trilogy.

Both Tanya and Garry have a wealth of knowledge and appreciation of the urban pop surreal character toy.

Class Breakdown
Week 1:    In our first class we will introduce the students to the Pop surreal urban toy culture and begin exploring existing character design practices and examples. We will then begin to explore our own designs. Progression of the design process can be undertaken between classes to take full advantage of the design stage.

Week 2:    Our second class will continue with design and also start to explore how we can develope our 2D designs into physical models though the sculptural process. We will explore sculpting techniques, materials and practice and methods of creating models which are optimised for moulding and reproduction.

Week 3:    We will continue in class three to progress our models and designs.

Week 4:    In class four we will begin to explore casting and mould making. We will guide students through the process of making a mould of their character and reproducing the toy.

Week 5:   Student will have the option to continue with the moulding / reproduction process in this last class. We will also guide students through the final processes of painting and finishing their "one off" or limited run toy.
Note: Workshops fees cover tuition fees and the use of Wellington Makerspace only. Materials for the course will need to be purchased by the students during the course of the workshops. Students are encouraged to supply their own sculpting tools. Basic sculpting tool sets and modelling clay can be purchased from the tutors during the workshop.
When & Where

The Wellington Makerspace
6 Vivian Street
Wellington, Wellington 6011
New Zealand

Tuesday, 18 February 2014 from 7:00 pm to 9:00 pm (NZDT)
Add to my calendar
Organiser
Tanya Marriott is multidisciplinary designer who works in a variety of media including interactive design and play, character and toy design, film and animation. Her work seeks to build meaningful experiences and storytelling opportunities between digital and tangible activities. Marriott primarily teaches animation, play and game design.
She is the President of the  National Institute of American Doll Artists, and a Lecturer in Design at the College of Creative Arts, Massey University. She has been making dolls for over 20 years, and  has a background in Industrial design, interaction design and illustration.