Description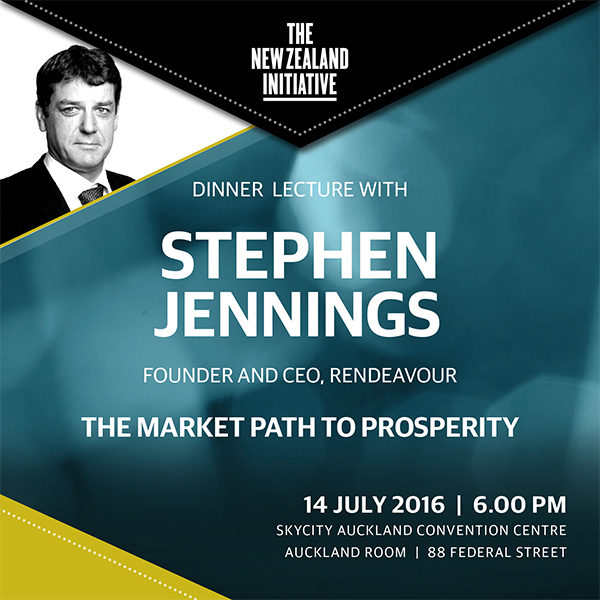 RSVP by 29 June 2016.

6.00pm Pre-dinner drinks and canapés
7.00pm 3-course dinner, drinks and presentation

Hosted by The New Zealand Initiative

New Zealand entrepreneur Stephen Jennings has been living and working in emerging markets for more than 20 years. He is a pioneer of capital markets in Central & Eastern Europe and Africa, responsible for over $200 billion of investment into these regions.
With his latest projects, Jennings is spearheading huge urban development projects in Africa through his company Rendeavour.
He believes that the opportunities for Africa are greater than anywhere else in the world. This is not because Africa is different but because the potential for catch-up and convergence is greater – and is likely to be fulfilled more rapidly. Jennings also makes the case that New Zealand businesses should get engaged in Africa's rise.
The dinner lecture will be a rare opportunity to hear one of New Zealand's most successful businesspeople on the power of markets and entrepreneurship in emerging economies – and why they are more transformative than either philanthropy or government aid.

Business attire

Organiser of Dinner with Stephen Jennings
The New Zealand Initiative is an independent public policy think tank supported by chief executives of major New Zealand businesses. Our mission is to help build a better, stronger New Zealand. We are taking the initiative to promote a prosperous, free and fair society with a competitive, open and dynamic economy. We develop and contribute bold ideas that will have a profound, positive, long-term impact on the well-being of New Zealand.