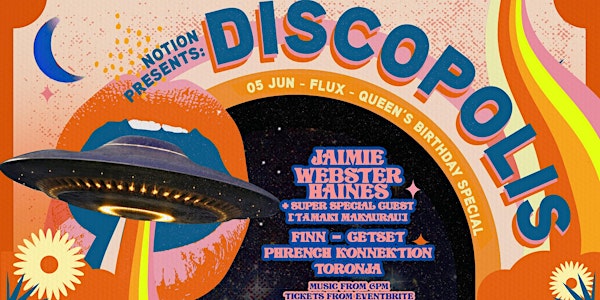 Discopolis Ft. Jaimie Webster Haines
Location
FLUX
270 St Asaph Street
St Asaph Street
Christchurch, NZ
New Zealand
One Night Discotheque at Flux Queens Birthday weekend special!
About this event
Notion is proud to present another edition of the hot club series Discopolis for a Queens Birthday weekend special!
This time we're bringing down Jaimie Webster Haines from Tāmaki Makaurau as she'll do her thing at the Flux Discotheque with a super special surprise guest!
In support we'll be having Discopolis debuts from Phrench Konnektion, Toronja, long time disco enthusiast Getset and a determined Finn to make up for missing the Notion classic with Christopher Tubbs
Jaimie Webster Haines is a highly in demand DJ who brings an uplifting, joyful and infectious energy to any dancefloor.
The wife of jazz legend Nathan Haines, Jaimie has DJ'ed at many of this countries leading festivals and underground parties including Pleasure with Flamingo Pier and Frank Booker, Club 121 with Christopher Tubbs at his legendary Body Electric nights, opened for Bevan Keys at Nice 'n Urlich, as well as accompanying Nathan at International Festivals such Sun and Bass in Sardinia and in St Petersburg Russia.
Focusing on the disco and soulful end of music, Jaimie is unafraid to play vocals or songs with unusual arrangements, and often strays into places other DJ's would never dare of.
Described as "The DJ's DJ" Jaimie is also known for her impeccable mixing and knowledge of music, as well as gaining the love and trust of any dancefloor. Let's go!