This 8-week course focuses on a comparative examination of the contemporary belies and practices of the major world religions.
About this event
CONTEMPORARY BELIEF & PRACTICE – SELECTED TOPICS, Part 1
The course, part of our Discovering Religious Diversity series, focuses on a comparative examination of the contemporary values and practices of the major world religions, and involves a critical exploration of lifecycle rituals and beliefs, from birth to death, food and clothing preferences, festivals and other activities associated with what religions do.
Throughout this two-term course (both are independent and can be taken without having taken the other), we look at a wide variety of selected topics in the contemporary practice of religion, focusing on a different topic during each class. In each session we cover how the different faith traditions approach the particular topic of the evening. Structuring discussions in this way allows us to focus on the numerous similarities between the major world religions rather than on any perceived differences.
The topics covered in Term 1 are:
Week 1: Image and Iconography
Week 2: Sacred Time: Cosmology & Creation
Week 3: Sacred Time: Calendars, Holy Days & Festivals
Week 4: Sacred Spaces
Week 5: Prayer and Worship
Week 6: Food and Ritual
Week 7: Sacred Clothing
Week 8: Sacred Music.
The topics covered in Term 2 are:
Week 1: Rites of Passage: Birth and Coming of Age Ceremonies
Week 2: Rites of Passage: Marriage
Week 3: Asceticism, Monasticism and Renunciation
Week 4: Asceticism, Monasticism and Renunciation
Week 5: Going Beyond: Esoteric Traditions & Mystical Experiences
Week 6: Ethical Ideologies: Agnosticism, Atheism, Humanism & Rationalism
Week 7: Rites of Passage: Death and Bereavement
Week 8: Interfaith Perspectives on the Golden Rule
All of our classes are taught from an objective point of view. These are classes about religion and religious behavior, taught from an anthropological point of view, and are designed for participants to get a greater understanding of the depth and scope of the diversity that exists within the world's various faith and belief traditions.
PREREQUISITES: There are no prerequisites for this course. Any of our Term courses can be taken independently of the others and at any time and in any order. There are no prerequisites for any of the Religious Diversity courses.
DISTANCE-LEARNING OPTIONS: Our Religious Diversity courses offer distance learning options for those unable to attend classes in-person. Live-streamed classes are available via free Zoom software, or those unable to attend the date and time of the actual class sessions can watch the live-recorded video sessions on their computers, laptops, tablets or mobile devices and study at their own pace. These recorded sessions will be available soon after each class finishes so that you may watch the recorded video via any web-browser at your leisure. Your instructor will provide details on how to access your classes before your course begins.
Cost per person per Term (8 classes):
Waged: $105.00
Unwaged (unemployed, students, seniors): $85.00
For more detailed information on this and our other courses, visit our web site at earthdiverse.org.nz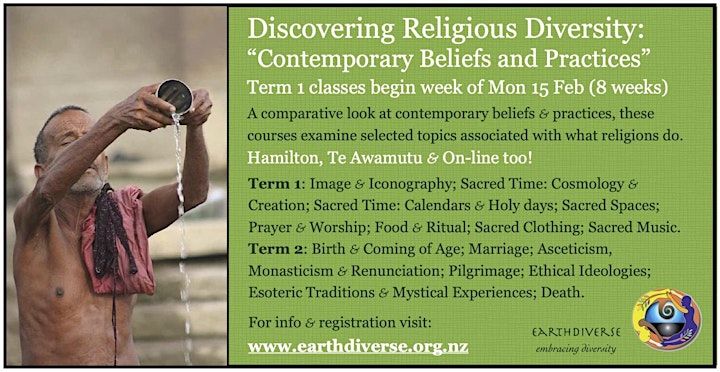 Organiser of Discovering Religious Diversity series: Contemporary Beliefs & Practices
EarthDiverse is a non-profit non-governmental organisation that incorporates a more comprehensive view of all that Planet 3 has to offer: one that combines all the depth and breadth of human diversity—our social, cultural, ethnic, linguistic and religious diversities—with the vast but threatened splendor of the environmental and biological diversity of our world.
We offer adult education courses, workshops, seminars and activities on a wide variety of topics that include Religious Diversity, Language, History, Multiculturalism, Philosophy, World Mythology, Art & Architecture, and Aotearoan Natural History, Environment and Biodiversity.
For more information on our current course offerings visit us at earthdiverse.org.nz