DIY Rocketspark Website Workshop Don't DIY alone - get expert advice and leave the workshop with a LIVE website.
About this event
Do you NEED a website for your small business or start up but it's not in the budget to pay a web designer? Or maybe you've had a look at the DIY option but feel overwhelmed? This workshop is for you! Come along to our 4 hour workshop where our qualified Graphic and Web designer Leah White will walk you through the process of building your own website on the Rocketspark platform, with her expert help.
What this workshop includes:
Have your up to 4 page website LIVE by the time you leave the workshop
Step-by-step instructions to get your website designed and live
Questions, answers and problems solved in real time
Expert advice from a qualified Rocketspark website designer
Morning tea and a hot drink from Storyteller Bar & Eatery in Te Awamutu
A goodie bag
Follow up instructions and information to help your website after the workshop
What you're going to receive:
Before the workshop
A detailed checklist to work through BEFORE the workshop, this will tell you everything you need to have organised to help you go live on the day of the workshop
Easy to understand information explaining that tricky website jargon
A Rocketspark login for your own website
During the workshop
Follow along as we share with you our process in building websites
Step-by-step instructions and demonstration
Extra steps to help with your website success
Our recommendations for your website based on your business needs
All the information and help you will need to get your website LIVE!
Only 4 spots available.
Book your ticket now!
Terms and Conditions
You will need a basic level of experience on a computer - understanding browsers, tabs and how to find your way around. If you're unsure if your technical experience would suit this workshop please call us before purchasing a ticket.
You will be required to bring your own laptop with you.
No refunds will be provided so please book your ticket once you are certain you can attend.
We may cancel and/or postpone events if we do not have enough attendees, should this happen you will be provided with either a full refund, or the option to move your ticket to another date. The same will be provided if we have a Covid-19 level change causing us to cancel these workshops.
Your website going live is subject to you completing all tasks on the checklist you receive before the workshop and DNS settings/transfer times.
These workshops are held in Te Awamutu.
The website will be built on the Rocketspark platform and you will pay Rocketspark a website hosting fee starting from $39 + gst a month, please refer to Rocketspark's T&C's here.
Each ticket allows for only 1 person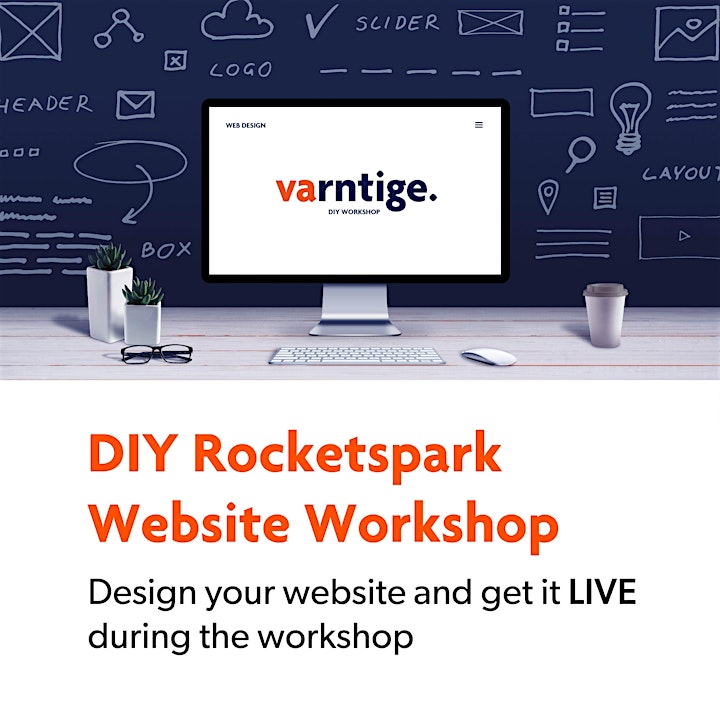 Organiser of DIY Rocketspark Website Workshop - 8th June
When we started Varntige five years ago, it was with the simplest of missions: to help business owners be happier and less stressed while running their growing businesses.
Every service that we have created since then, whether it's bookkeeping, administration, graphic design or websites, has been in pursuit of that mission.
Over the years, we have had the privilege of working with some truly amazing business owners and we have got to see first hand how issues of time, business skills or cash flow can get in the way of them enjoying the parts of their business they love the most.
We think it's a little sad that many people don't have the time to focus on whatever it is that's most important to them.
But we don't get sad for long, because at Varntige we are working every day to build a sustainable, positive company that empowers people all around New Zealand to do what they do best, and fall in love with their business all over again.
Visit our website here: Varntige.