Description
Launching marshmallows out of vacuum cleaners, building rockets from common household items, sending teddy bears into space with liquid nitrogen? Is there nothing Dr Graham can't do?!!
Prepare yourself for a thrilling science show that explodes through chemistry, physics with bubbles, booms, bangs and occasionally, fire!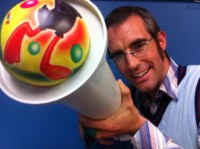 Dr Graham Walker is a dab hand at science shows. For the past 16 years he has thrilled audiences around the globe with his unique brand of entertaining and engaging teaching.
Appealing particularly to primary school children, all are welcome to attend, however, children under 14 years must be accompanied by a responsible adult.
These shows are FREE, but space is limited. Avoid disappointment by booking you and your children's tickets.
royalsociety.org.nz/our-events


We gratefully acknowledge the support of our partners in presenting these family fun events.