Dr. Heidi Douglass presents "Yin Yoga + Tea Time"
Description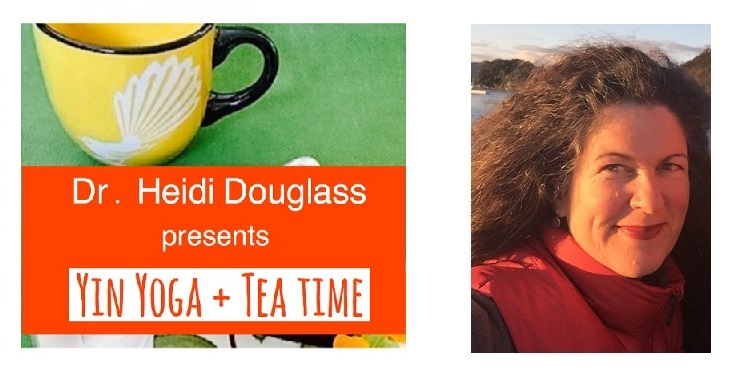 After I teach my Mindful Eating Workshop in the morning of May 18th, I will be teaching a separate, Yin Yoga event in the afternoon. Yoga is extremely helpful for our physical and mental health. A Yoga practice can reduce symptoms of anxiety and insomnia, help to improve body image, self-compassion and re-connection to the physical body. Yoga also helps people to keep weight off once they lose it.
If Mindfulness were a room, some people would be able to access that space via a traditional seated meditation practice. However, for some people, a movement based practice like Yoga can be far more helpful. Join me for a 75 minute Yin Yoga class which includes an extra long Savasana (relaxation) followed by 45 minute tea time to connect and relax together in the beautiful location of Houchen Retreat Centre in Hamilton. This event is limited to a maximum of 11 students.
Yin Yoga is a slow paced, mostly seated, style of yoga wherein postures are held for 3-5 minutes. Yin increases circulation to the joints, improves flexibility & range of motion. Yin yoga is more meditative than other forms of Yoga. Yin is never boring as it forces you to sit with yourself & your busy mind & be very much aware of what is going on in the here and now. Compassion & acceptance are emphasized. A few short pieces of poetry are woven into the Yin class to give the mind something to contemplate.
Raglan Roast coffee and an assortment of teas will be available along with a light, home made, vegan, sweet item.

Yin encourages kindness, self-acceptance & non-striving. I offer modifications for every pose and a strong emphasis is placed on people doing what feels right for their body. Beginners always welcome.
Dr. Heidi Douglass is a RYT500 certified Yoga teacher. This means that she has completed over 500 hours of Yoga Alliance certified teacher training hours in New Zealand and abroad.
Dr. Heidi's yoga teaching is "trauma informed". This means that these classes and workshops may feel safer for people who have a history of trauma. For example, generally, Dr. Heidi does not touch her students. If she does, she only does so with permission. The atmosphere of her yoga events is friendly and welcoming. She teaches yoga with a very flexible style with lots of choices, options and modifications. Students are encouraged to modify poses to suit how their body feels on the day. Kindness, compassion, curiosity and acceptance are all encouraged in Dr. Heidi's yoga events.
Dr. Heidi is approved as a Yoga provider for ACC clients. Funding decisions are made on a case by case basis and not all clients will be eligible.
What People are saying about Yoga with Dr. Heidi:
"Dr Heidi. Thank-you very much for welcoming me into your class so warmly. Your class is the best thing I've done for my body and mind in a looong time. It was inspiring and intriguing. You are doing a wonderful community service. Looking forward to next time. Yours very gratefully", Simone Paradine.
"Fantastic class! I am 60 and 1st time I have ever tried yoga." – Jan
"Heidi is light, bright and fun! She has a strong and vibrant energy that will draw you in to her well guided and safe practice. If you are interested in an inclusive and accessible class Heidi is your lady. She offers her whole heart to every class. Enjoy!" Joanna Griffin
"Heidi is a breath of fresh air. I have attended her yoga classes and she brings a sense of lightness, laughter and personality to her teaching. She truly cares about making each of her students feel comfortable, and is knowledgable in how to modify poses to work with where they're at, I wish I lived closer so I could attend more of her classes! Thanks for your wonderful teaching Heidi. " Chantal Lynne
"Heidi's Yoga classes are filled with care. Do you know that feeling when you are with someone so nurturing that sort of reminds you that you are hanging out with a really cool mum? well, I get that feeling when I take Heidi's class. Her classes can be thoughtful, gentle and relaxing, sprinkled with 'vitamins' like sun salutations and balancing poses for strengthening and stabilizing the body. She has great knowledge in psychology so with lots of fun humour, she will invite you on your own journey to go beyond your body and into your mind to help you tap into your wisdom. After class, you will experience a sense of love for yourself and those around you. " Juan Villegas
Contact Dr. Heidi if you have any questions, drheididouglass@gmail.com, 022 012 3781.
Refund Policy: No refunds. However, if you can not make it on the day, you can gift your ticket to another person who can come in your place.