Description
Dynamics Day 2016 is now sold out. You can add your name to our waitlist and receive an invite in case of any attendee withdrawal.
In the world of business, technology is ubiquitous, and our ability to harness its possibilities aligning it to our business goals is crucial to our success as organisations.
With technology as perhaps the most significant business-wide enabler in our organisations today, the conversation has broadened to encompass an outcome-centric view, spanning many (or, arguably, all) roles across an organisation.
In addition to this, Microsoft business technologies themselves are becoming increasingly integrated, more seamless and easier to consume. As both business practitioners and personal consumers, we're experiencing a paradigm shift in productivity and engagement, expecting more from technology than ever before.
This presents us with an exciting opportunity to leverage the full extent of our Microsoft technology platform for competitive advantage, increased productivity, connectivity and engagement.
Why attend?
Free to attend, Dynamics Day is the only event of its kind in Australasia, bringing together hundreds of business decision makers and technology leaders for a day of thought-provoking sessions, real world client stories, and business-focused technology updates looking at the Microsoft technology landscape and future direction, and what this means for your organisation.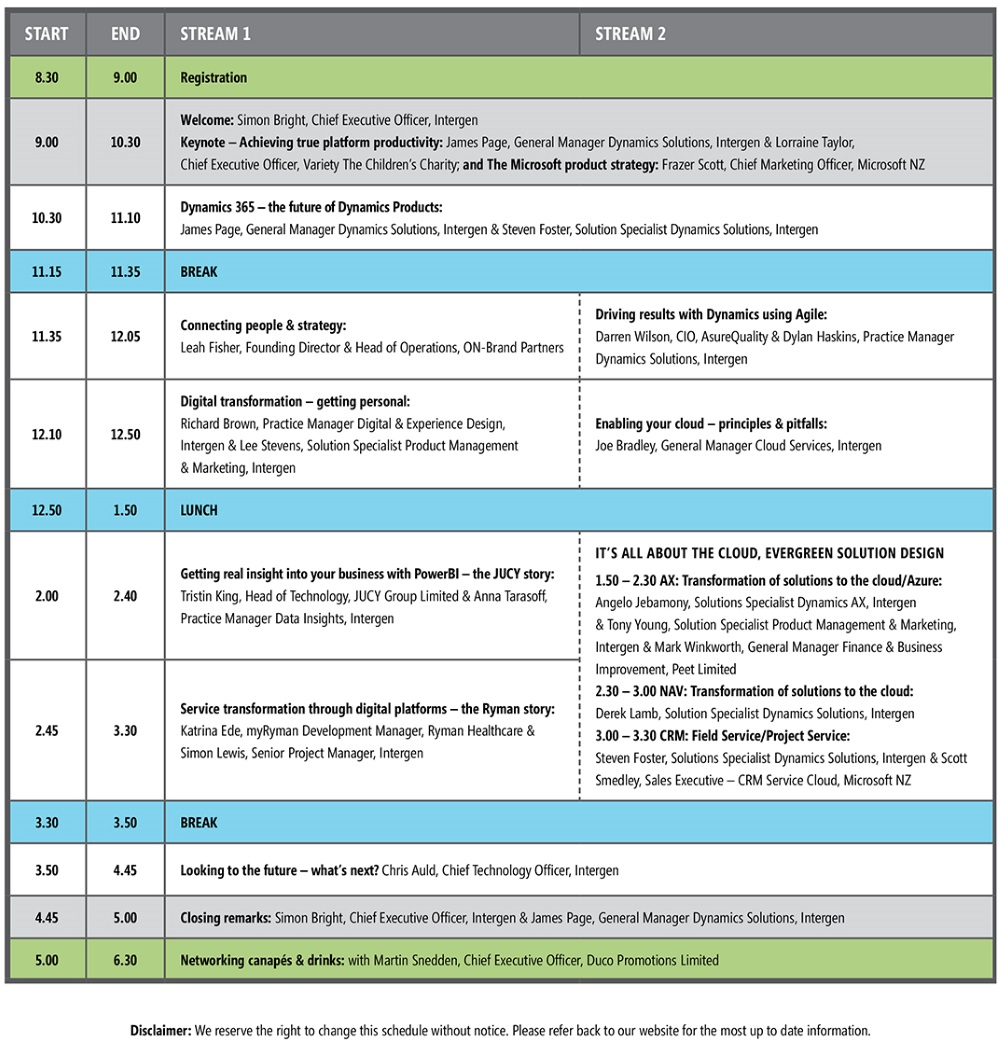 In attending Dynamics Day, you'll get to:
Hear from leading New Zealand organisations on how they are achieving their business goals through the application of Microsoft technologies
Hear from Intergen's and Microsoft's experts about the technology context and roadmap making this business and digital transformation possible
Consider current technology and business trends and best practices and learn more about future technology directions
Network with peers and talk with other organisations about technology objectives, observations and experiences
Ask questions, view technology demos and request one-on-ones in our Experience Centre room
Ensure your organisation getting the best leverage from your technology investment
Who should attend?
Business and IT leaders and professionals with an interest in technology directions in a business context and how Microsoft technologies can underpin business objectives and drivers
Existing and prospective users of the Microsoft Dynamics and wider business applications across the full Microsoft stack
Please note due to the level of interest in this event we reserve the right to decline registrations.
Guest speakers
Emma Barrett

Intergen

Executive GM Solutions & Services

John Bessey

Intergen

Executive GM Sales & Marketing

Katrina Ede

Ryman Healthcare

myRyman Development Manager

Leah Fisher

ON-Brand Partners

Founding Director and Head of Operations

Tristin King

JUCY Group Limited

Head of Technology

Frazer Scott

Microsoft New Zealand

Chief Marketing and Operations Officer

Martin Snedden

Duco Promotions

CEO

Lorraine Taylor

Variety – the Children's Charity

CEO

Darren Wilson

AsureQuality

CIO