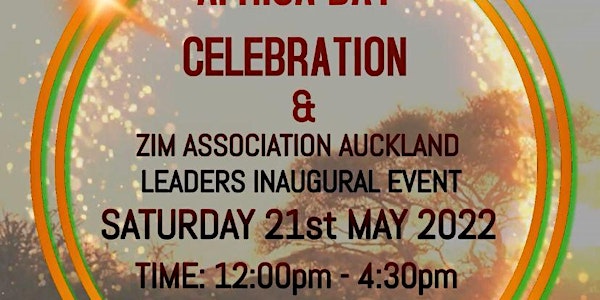 Early Africa Day & Zimbabwe Association Auckland Leaders Inaugural Event
Location
RSA New Lynn, 2 Veronica Street
2 Veronica Street
Auckland, Auckland 0600
New Zealand
Early All Africa Day Get Together & Inaugural Event & meet Other African Leaders
About this event
Early All Africa Day Get Together & Inaugural Event & meet Other African Leaders.
Lets All Be involved in the Decision Making Process of the way forward including upcoming African events in the following weeks hosted& organised by other groups.
You are all Cordially Invited and Welcome to our Early All Africa Day Get Together plus Official Inauguration of our Auckland Leaders for ZANZA (Zimbabwe Association NZ Aotearoa) Celebration including Free catered food, beverages, Music, dances, Mbira, Drums, some Stalls right here in Auckland on Saturday 21st May 202212pm-4:30pm (lunch 1pm) at RSA New Lynn, 2 Veronica Street, Auckland.
Please note that the newly incorporated Zimbabwe Association is accepting all those that wish to be in leadership roles or to join the committee as members or just as members. Milestones are important to Celebrate, especially recognising all of our African leaders and rejoicing in us all being Africans as one within Aotearoa NZ. A time for All Africans in Aotearoa to Reflect, Rejoice, Assimilate and Build on what has been Achieved. Plus how to better Integrate and socialise within the wonderful opportunities that NZ has offered us all.
We will be honored to have African Leaders from other organisations and MPs. Due to limited time and short notice Only MPs will be Welcome to address the attendees at the same if they wish
Theme for this Year Africans in Aotearoa/NZ: United We Stand and Grow, Divided We Fall Please RSVP via eventbrite (https://www.eventbrite.co.nz/e/early-africa-day-zimbabwe-association-auckland-leaders-inaugural-event-tickets-341082646377) by the 19th of May 2022 or contact Sherpard on 02108094848 Ketina 0276436004
Covid-19 Awareness & Promotion: Your well being is important to us. We are ensuring every event is a safe and enjoyable one. We recommend wearing of masks as a general rule whenever we are indoors until it's time to eat. Face Masks will be available at the event for those who want them.
FYI: We have a list of people who are getting their vaccinations on the day through Pan African Broadcasting Corporation at a venue to be announced later this week, morning of the event day 9am-11am. Please contact us if you or your whanau (family /friends)would like to be added to this list. Questions welcome on Covid19 always welcome. Remember 5-11year olds can now be vaccinated. Contact NZIPCconsultancy@gmail.com and talk to Ben (Our Medical Microbiology Scientist)