Understand the science behind healthy eating. Discover ingredients and recipes to help you improve your health and well being
About this event
We live in a fast paced world full of convenience and processed foods where it's not always easy to maintain a healthy balanced diet, we want to help you break bad habits and choose nutritious healthy food options.
This short course runs over 1 weekend at our North Shore campus in Albany, Auckland.
The course will cover:
Super Foods!
Essential Vitamins, Mineral and Proteins
Probiotics and Healthy Digestion
Fats and Cholesterol
Blood Sugar and Glucose
Micronutrients
Water and Detoxification
Eating for your Body Type
Diets including Ayurvedic, Low Carb, Healthy Fats, Mediterranean and Paleo
Foods to assist your nervous system and help combat stress
Eating for better skin
There are lots of great handouts, product samples to try out and great healthy recipes to take home. Olivia Kennedy your tutor will provide you with lots of nutritional advice and healthy food options, the classes are casual and easy to follow with plenty of time for questions and answers. Our aim is to provide you with the scientific facts behind healthy food, but in a way that allows you to easily apply them to your day to day food choices.
Your tutor on this short course will be Wellpark College's Naturopathy and Nutrition Graduate, Olivia Kennedy.
Olivia now runs her own her own health clinic in Milford Liv's Apothecary and has a passion for promoting good gut health and the many benefits you will receive by taking care of your digestive system.
Please Like Wellpark College on Facebook.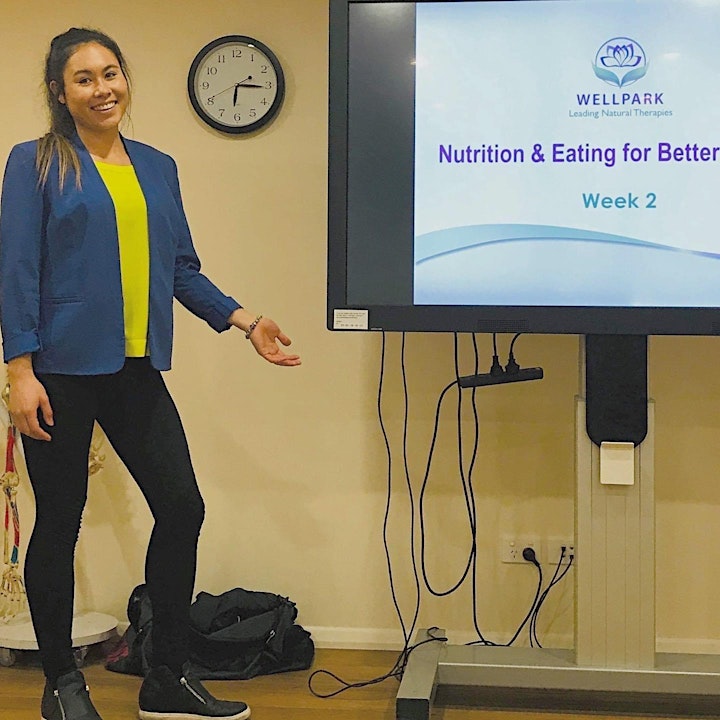 Organiser of Eating for Better Health - Weekend Nutrition course
About Wellpark College
As New Zealand's leading natural therapies tertiary provider we have a lot to offer. We are a NZQA-registered private training establishment. We offer tertiary education in , Herbal Medicine, Naturopathy, Massage and Nutrition.
 Our College is widely known for its award-winning tutors with many of our programmes structured to combine technical knowledge with high levels of personal development. Wellpark College is proud of the high calibre of our tutors and academic staff, offering academic excellence and robust industry experience in one of Auckland's finest suburbs.
 The future for natural therapies is exciting. The use of natural medicines is growing annually as individuals take responsibility for their health and well-being. The more paternalistic models of medicine are being challenged. The first goal for natural therapies students is to find out how to manage their own physical health, mental well-being and spiritual awareness.