Description
WHAT ARE THE AWARDS?
The excellence awards are firmly based on the international Business Excellence model the Baldrige framework, and entrants undergo robust assessing and judging processes against set criteria designed to be useful for kiwi SMEs.
WHO CAN ENTER?
Any business/organisation with an office in Kapiti and/or Horowhenua can enter the awards.
WHAT AREAS OF YOUR BUSINESS ARE ASSESSED?
You complete an entry form covering all 7 business excellence category areas:
Leadership
Strategy & Planning
Customer & Market Focus
Information, Knowledge & Performance Improvement
Workforce Focus
Operations: Business Systems and Process Management
Business Results.
You compete against other businesses in your size group to win one of these awards:
Owner Operator Excellence Award
Small Business Excellence Award
Medium/Large Excellence Award

You can also enter up to 2 Achievement Awards
Health & Safety
Emerging Business
New Thinking
It's Great to be Here
Employer of Choice
Give Where You Live
---


WHAT ARE THE BENEFITS OF ENTERING THE AWARDS?
It's impossible to put a value on being an entrant but at the very least, each business receives professional advice with a real commerical value of at least $3,500 and creates many opportunities for you to:
Step back and review what you do
Make the necessary improvements
Create recognition for your business
Publicly celebrate your success
Once you register you will receive a confirmation email which will include a link to download your Entry documentation: Entrant's Guide and Entry Form.
---
You will have until 5pm 31 May to complete and submit your entry to entries@bkh.org.nz
---
We will support you along the way:
Our Entry Coordinator Helene Judge of Kapiti Business Projects is available to assist you with your application. She can be reached on entries@bkh.org.nz or 027 244 9585.
So go ahead, register and be one of the lucky 30 businesses who go through the programme this year.
---
CUSTOMER CHOICE AWARDS
We are also giving you the opportunity to avail of a bundle offer by entering the Customer Choice Awards at the same time (saving $149). These awards rely on public voting rather than an indepth entry form and assessment process.

Good luck with your entry. You may be the next Business of the Year Winner.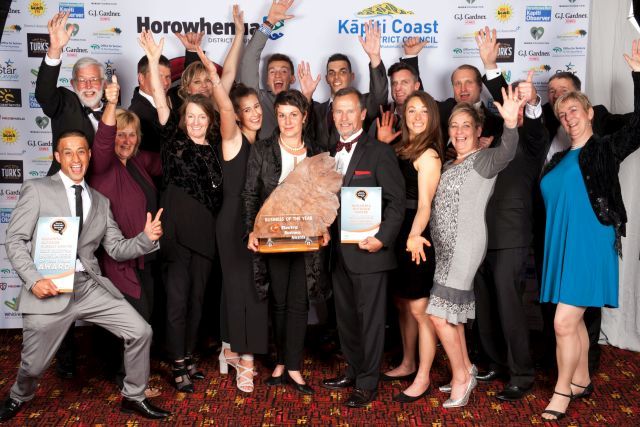 Photo: Makahika Outdoor Pursuit Centre 2017 Electra Business of the Year winner
Date and Time
Location
Refund Policy