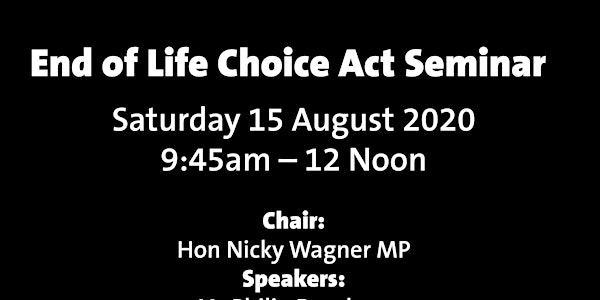 End of Life Choice Act Seminar in the Transitional Cathedral
Location
Christchurch Transitional Cathedral
234 Hereford Street
Christchurch, Canterbury 8011
New Zealand
Inform yourself about the End of Life Choice Act referenda in this year's general election. Reserve your seat now!
About this event
In light of the move to Alert Level 2, seating is limited to 100 people, please reserve your seat (no charge). If you have reserved a seat and are unable to attend, please email sam@christchurchcathedral so that your seat can be re-allocated. We ask you to arrive early and be seated by 9:45 for a 10:00 start. If you are unwell, we ask you to remain home. Social distancing protocols will be in place.
There are two important referenda at this year's General Election in which New Zealanders will be asked to make important choices for the future shape of our society.
The Transitional Cathedral and Theology House are collaborating to offer seminars at which informed speakers will explain the question to be asked at the referendum and allow for panel discussion and questions.
Chair:
Hon Nicky Wagner MP
Speakers:
Hon Ruth Dyson MP
The Rev'd Dr Graham O'Brien
The Rt Rev'd Richard Wallace
The Very Rev'd Lawrence Kimberley
Live-stream available on the website:
www. christchurchcathedral.co.nz
Christchurch Transitional Cathedral
234 Hereford Street
admin@christchurchcathedral.co.nz
03 3660046