Event Information
Location
Massey University, Manawatū Campus
Accommodation Office YFC Building
Palmerston North, Manawatu-Wanganui 4442
New Zealand
Join us for the End of Year Resident Dinner
About this event
We would love to invite you to have a meal on us for the end of year dinner to celebrate making it through to the end of semester two with the added challenges of moving through COVID alert levels.
Just a few things to cover off with regards to the evening:
- There will be one ticket available per self-catered resident.
- Your ticket will have scannable barcode which we will need to see upon entry to the dining hall. Please approach an RA or accommodation staff member to get your ticket scanned in.
- A timeslot will be allocated to your hall for meal collection. Your RA will advise you of this time on Wednesday. If you are not able to make that time, its okay we just want to try keep a handle on numbers in the dining hall at any given time. The dinner will run from 5pm - 7pm.
- You will receive a meal box containing an entre, main and dessert (menu below). You wont be able to choose what goes in your meal box, as they will be packed and ready for collection to manage time limitations and crowds. You will be able to swap your meal options with a friend however.
- You will need to bring your Student ID on the night so we can cross reference with your ticket. We want to avoid collecting meals for friends. If you are unwell please call duty RA and we will arrange a meal collection for you (this will apply to self catered residents only).
- While seating in the dining hall is restricted, we will look to create an area outside (next to the oval) as an alternative option. This will be weather dependent.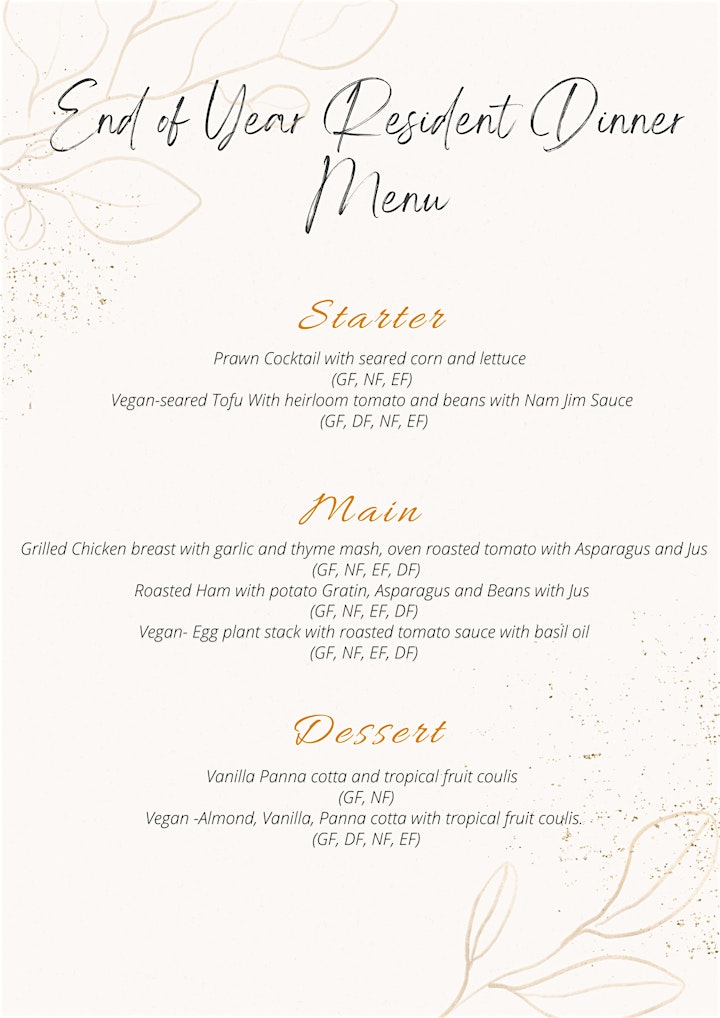 Date and time
Location
Massey University, Manawatū Campus
Accommodation Office YFC Building
Palmerston North, Manawatu-Wanganui 4442
New Zealand