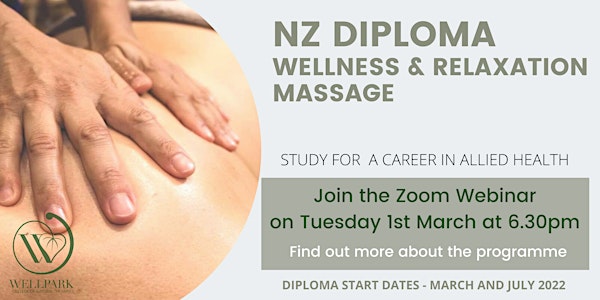 Enrolment Webinar for the Diploma in Wellness & Relaxation Massage
Looking for a career with purpose? Find out if working in the Allied Health Profession as a Massage Therapist is right for you.
About this event
If you have an interest in Health and Wellness and you are looking for a hands-on career with purpose then find out more about studying to become a Massage Therapist
This Zoom Webinar is being held so that you can learn more about the Allied Health Profession, the qualification you will need to become a massage therapist and what you will learn if you choose to study for your NZ Diploma in Wellness and Relaxation Massage with Wellpark College of Natural Therapies.
Our Enrolment Advisor and Massage Tutor Rebecca Adlam will cover on the Zoom call:
What you will learn on the 1 year Diploma Programme.
What career pathways this qualification might lead to.
What to expect if you become a self-employed massage therapist
Further study options if you move onto the Level 6 Qualification
What you will learn in our Student Training Clinic.
Time tables.
Fees
Fees Free and Study Link Loans
The Enrolment Process.
Q n A Session - The second half of the Webinar is open for you to ask as many questions as you need to. We fully understand that enrolling to study is a big commitment in time, money and energy. We want to give you as much information as possible to help you choose if studying for the NZ Diploma in Wellness and Relaxation Massage at Wellpark College is the right decision for you.
This Programme will run on 14 March and again in July.
Register to attend the Webinar and we will send you the Zoom link to join the session 24 hours before we go live.
If you can't make the Webinar you are welcome to call or email our Enrolments Advisor for a chat. Contact Us.