Evening with Glen Levy | Star of Auckland Daze and "The Most Dangerous Man in the World"

Wednesday, December 14, 2011 from 6:45 PM to 9:30 PM (NZDT)
Event Details
DOOR SALES AVAILABLE AT DOOR $50 CASH



Star of Auckland Daze and the Most Dangerous Man on the Planet
An evening with Glen Levy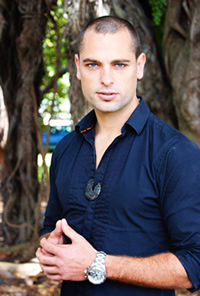 You may have seen Auckland Daze www.tvnz.co.nz one of the highest rating shows in New Zealand, where Glen Levy plays his alter ego. You will recognise Glen from Spartacus, Poseidon, Lord of the Rings, Underworld, One Man Army and numerous other movies. You may have seen him on National Geographic's highest rating show ever 'Fight Science' where he was dubbed 'The Most Dangerous Man on the Planet'
So what can you learn from an evening with the entertaining, physical and profound Glen Levy:
 Learn about the electro magnetics of your body, how to self heal, improve strength and get in shape for 2012 (without the gym)
 Find out some quick and easy ways to protect yourself and get out of trouble if you are ever attacked
 Learn how to manifest dreams (Glen received his Screen Actors Guild accreditation in record time and took 30 mins to manifest the love of his life)
Learn how pain is an illusion – not only physical pain, but emotional pain and that caused by stress
 Learn about your body and how to get it moving and healthy in just 5 minutes a day
Now Glen is a funny guy, so expect some belly laughs, to be really entertained and be blown away by his stories and his expertise.
What you will leave an evening with Glen Levy with:
 A new understanding of your body and how to keep fit
 Some simple tools to increase your confidence and awareness
 Some Neuro-Physical Hacking to obtain your goals easier
 A new outlook on stress and physical problems
 A simple tool to manifest what you desire
Here is what people say about Glen Levy:
"I broke my shoulder in a bike accident in 2005. I haven't been able to lift my arm above my shoulder since. 3 minutes with Glen and I can now lift my arm as if I were a child again – pain free" Harley Springer – Perth
"Glen Levy is a modern day Hippocrates. Whilst he can certainly kill you by looking at you, he can absolutely and whole heartedly give you better health, vitality and well being with simple and profound tools." Don Tolman – Utah
"Glen Levy is one of the most brilliant students of martial arts in the world. What he teaches is profound.' Eric Chen – California
"I wouldn't tackle him with anything less than an M16' – US Navy Seal
"Glen Levy's technology and wisdom are cutting edge. In years of learning from Masters globally I rate Glen as knowing more about the human body and how we really work than any of them" Mike Handcock – Auckland
About Glen Levy
Glen Levy grew up in Thames, and has taken the martial arts world by storm. Breaking into Hollywood in 2005 Glen has been seen in over 40household name shows and movies. In 2009 National Geographic featured Glen and his incredible abilities in Fight Science where it measured the most deadly fighters on earth, dubbing Glen – the most dangerous. Glen's understanding of the human body has led him to self heal from numerous injuries including 3 broken backs (one in 2011). He is an incredible teacher and an amazing human. He was featured in the 2011 best seller – Transformational Leaders.  To learn more about Glen Levy Click Here
BONUS:  Every registration for An Evening with Glen Levy will receive his dynamic book 'Standing in Stillness' worth $35.
Do yourself a favour and have fun, enjoy great new learnings and find out about yourself through an evening with Glen Levy.
When & Where

The Conference Centre
585 Great South Road
Penrose
Auckland, 1642
New Zealand

Wednesday, December 14, 2011 from 6:45 PM to 9:30 PM (NZDT)
Add to my calendar
Organizer
Rock Your Life is an organization committed to creating abundance for all. Most people die without reaching their full potential, or even getting close. Whether this is health, wealth creation, business or spirituality we all have so much to offer and do. What is stopping you playing your bigger game?

Rock Your Life stretches the human experience by providing workshops, retreats, journeys, books, DVD, events and multi media with incredible transformational experts in their fields of excellence from all across the world.
Contact us - info@rockyourlife.net