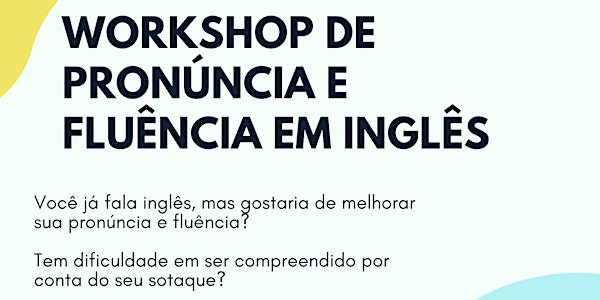 Evento ONLINE - Pronunciation & Fluency in English
Refund policy
Contact the organiser to request a refund.
Eventbrite's fee is nonrefundable.
English Pronunciation & Fluency (for Brazilians)
About this event
Workshop - English pronunciation and fluency for Brazilians.
Do you speak English, but want to improve your pronunciation and fluency? Do you find it difficult to be understood because of your accent? Maybe you don't feel confident during job interviews or networking opportunities?
In this workshop I'm going to help you overcome these challenges and improve your pronunciation and communication in English (and soften your accent, if that's what you choose).
I moved to NZ after completing a Bachelor of Education in Brazil. I could speak English and worked at an international school. I had experience, but I felt that the way I spoke was stopping me from getting my dream job - have my own classroom here in NZ. It wasn't just any dream. I wanted to teach native English speakers to read and write, in their own country.
I study English phonetics and pronunciation in depth and finally achieved my professional goal. And not only that. I trained in Reading Recovery, Phonics, became a Special Education Needs Coordinator (which includes ESOL), and Board of Trustees member as staff rep.
Many people have asked me if I teach English. They often say that they would like to improve their pronunciation and that they struggle with job interviews. I know that there are many Brazilians in Queenstown that would like to change their careers, but they feel that they just can't communicate well enough.
In this workshop I will not cover grammar, only pronunciation & fluency. I will teach you:
- Correct phonetic sounds;
- Voiced & unvoiced sounds
- Rules & exceptions;
- Linking words e fluency;
- Intonation
- Stressing the right words
- Speech analysis
- Practice
It will be a very small event, with limited spots.
Price: $20 per hour. You will not find any English teacher at this price.
** Please note that this workshop is in Portuguese.