Description
Join us for a panel discussion to discuss diversity.
The evening will start by listening to an Auckland based panel via webcast followed by a live panel discussion in Wellington.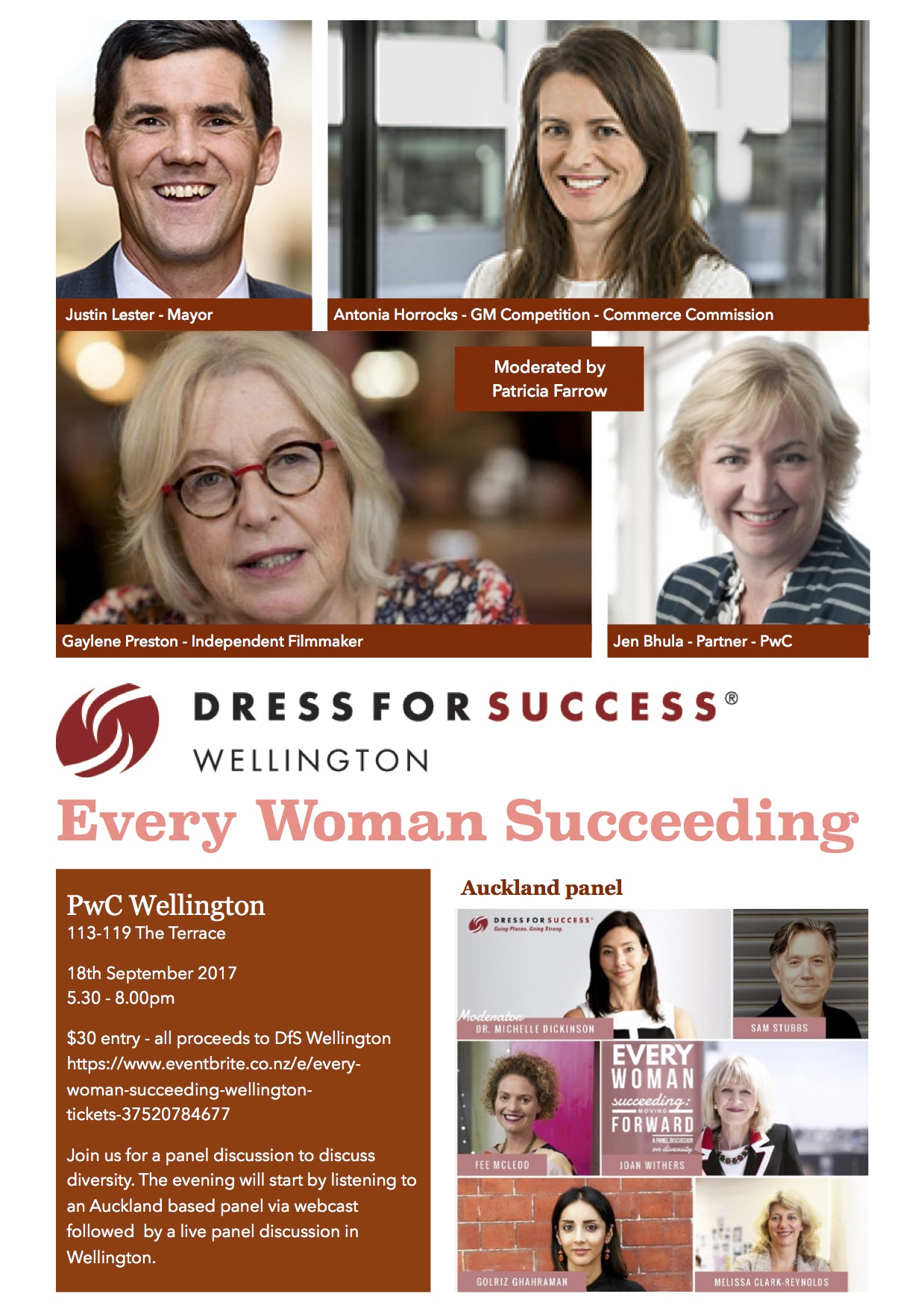 THE PANELS
Both Auckland and Wellington based panels consist of a diverse group of successful individuals representing a number of industries providing a well rounded perspective of the issue.
Auckland:
Joan Withers - A professional director for 20 years. Her current governance roles include Chair of Mercury NZ Ltd, The Warehouse Group Ltd and director of ANZ NZ. She is a former Chair of Auckland International Airport and TVNZ.
Fee McLeod - General Manager of The Mind Lab. Bringing technology, innovation and science to the everyday lives of kids and teachers to ensure no one gets left behind
Sam Stubbs - Founder and managing director of Simplicity KiwiSaver, a nonprofit, 100% online fund that supports New Zealand charities as part of its model. Sam was most recently CEO of Tower Investments, a KiwiSaver default provider.
Melissa Clark-Reynolds - A Digital Strategist and Professional Director - with 25 years experience as an entrepreneur and in the business start-up community. She trained with Clayton Christiansen in his approach to Disruptive Innovation through Harvard.
Golriz Ghahraman - An Auckland-based human rights lawyer and Iranian-New Zealander, who arrived in New Zealand as an asylum seeker. She has practiced law in New Zealand and acted as a lawyer for the United Nations. In Africa, South East Asia, and The Hague. She is the Green Party candidate for Te Atatu.
Dr Michelle Dickinson (event moderator) - A senior lecturer in Engineering at the University of Auckland, New Zealand and Director of Nanogirl Labs Ltd. Awarded Member of New Zealand Order of Merit Michelle was winner of the Women of Influence award for science and innovation in 2016, was awarded the Sir Peter Blake Leadership in 2015 and was winner of the Prime Ministers Science Media Communication Prize and the New Zealand Association of Scientists Science Communicators Award in 2014.