Description
Mandi Lynn, New Zealand's Creative Photographer of the Year, is travelling the country collecting 600 images of women covered in golden clay. The photos are taken anonymously and are representing the 95% of women that are rarely seen in mainstream media. This is done as an awareness builder of the fact that we see daily 400-600 photoshopped images of the genetic 1-5% of women.
If you would like to become part of the exhibition you are welcome to join the Luscious Order of Golden Shield Maidens. The name given to the women who have partaken in the photoshoots to date.
The Wanganui version of the project is being done in conjunction with the One Billion Rising event happening at La Fiesta on Valentines Day.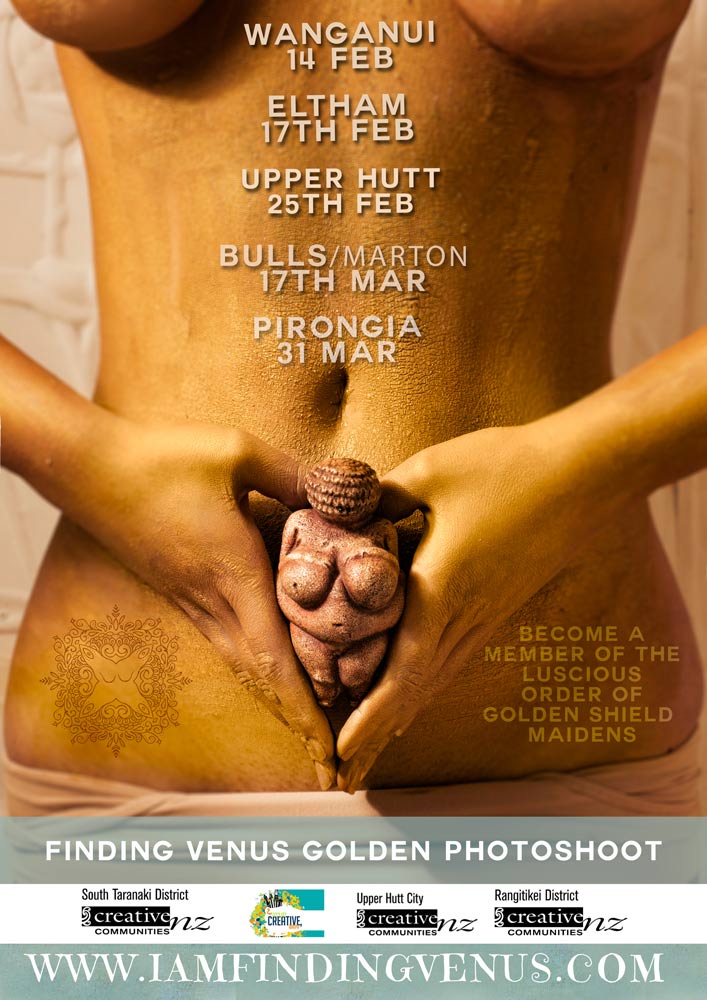 15.00 covers the cost of the clay, the printing of the image for the exhibition, and the cost of the background support. We have left it open to donations for attendance as we would like as many people to come as interested but realize that some can afford more than others. Any extra you donate will be used to help us bring the event to other regions and make the world more compassionate one golden boob at a time.
There is a documentary being filmed while Mandi is creating the exhibition, so there is a possibility you may see your self in the final, however if you wish to be anonymous this will be arranged as well.
The Finding Venus Project has been brought to Wanganui by: