Fjord CleanUP - Inner Oslo Fjords voluntary cleaning effort!
About this event
The plan:
17.00 - 17.15: briefing, split into groups (paddlers, walkers, divers), get changed, get gloves & bags.
- Note: Mad Goats will be providing a limited number of kayaks 6 SUPs for the volunteers. Those not diving or paddling can scour the waterside for trash on land. Remember to dress warmly on the day!
- 17.15 - 18.45: clean up, then meet back at start point with trash and take group photo.
- 19.00 - 20.00: Free vegan soup in edible cups from our partners @SuppekultOslo, and then you have the option to have a sauna session at the Oslo Badstuforening or at FahrenheitOslo at Sukkerbiten.
Hope you are looking forward to cleaning heaps of rubbish out of the fjord with us!
Ps, if you want to learn how to dive and use our diving equipment, then you need to become a Fjord CleanUP member. You can do this on our webpage: www.fjordcleanup.no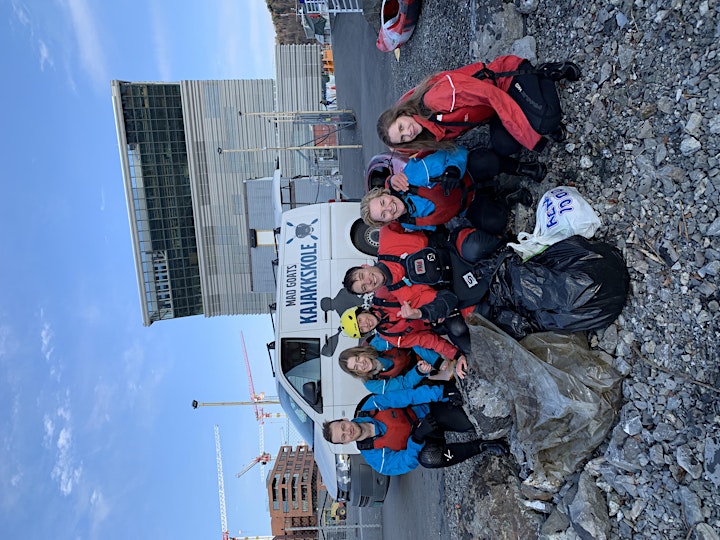 The Oslo Fjord is a gem, and one of Oslo's greatest assets.
The fjord is a mecca for all kinds of water sports and outdoor activities. Increasingly, the urban harbour area is used for water-based activities, such as swimming, kayaking and diving. But can we trust that its environment is healthy and clean?
The natural environment of the entire Oslo Fjord is under pressure. Overfishing, boat traffic, pollution and marine litter are some of the things that threaten the ecosystems and are killing marine life. In the inner port area of ​​Oslo, the situation is no better.
Complaining never helped anyone though, neither does sitting around and hoping someone else will act. Results start with real action, and this is your chance to contribute to real change!
We know that there are so many committed and passionate people out there who are enthused about helping to make our planet a cleaner and happier place. We want to be able to offer a regular event that you can join every week. We all know that doing good deeds gives us a sense of purpose, that we are contributing to making the world a better place, and a feeling that we are fighting for something bigger than ourselves! It all starts with small steps; by creating positive change in our little corner of the world. This will have a ripple effect, that will send out waves of change around the entire globe.
Now let's clear the harbour together!