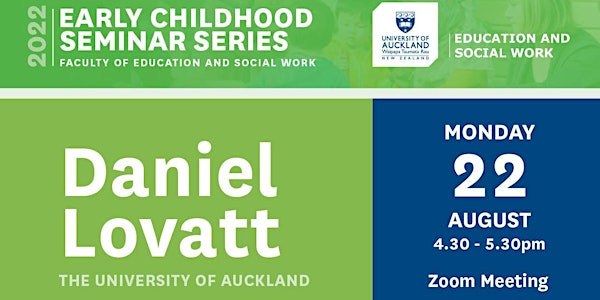 Flying sausages: Supporting children's working theories
Hear from Dr Lovatt, the curriculum leader at Aro Arataki Children's Centre in Auckland New Zealand.
About this event

Working theories are a key learning outcome of Aotearoa New Zealand's early childhood curriculum Te Whāriki. This seminar will draw on my doctoral research to explain how children form and develop their working theories, and how teachers might foster that formation and development. In my project I spent a year generating data at two early childhood centres in Auckland New Zealand so have many examples to share related to science, technology, engineering and maths (STEM).
I will present two models that were developed through this research. Each model provides a framework. The first supports teachers to understand in greater depth how children form working theories; the second helps teachers to develop their own strategies and techniques that foster, support, and extend children's working theories in their own contexts and settings.
The use of these two models could provide teachers with rich insights into both how young children develop working theories, and enriched techniques and strategies that support, extend and foster complexity in children's working theories.
Biography
Dr Daniel Lovatt is the curriculum leader at Aro Arataki Children's Centre in Auckland New Zealand. Previously he has worked as an electrician, electrical engineer, and early childhood teacher. He recently completed his PhD where he explored ways teachers support young children's development of working theories about the STEM domains.