| | |
| --- | --- |
| **FREE** Elementary Chinese Class + Chinese Movie | |
Event Details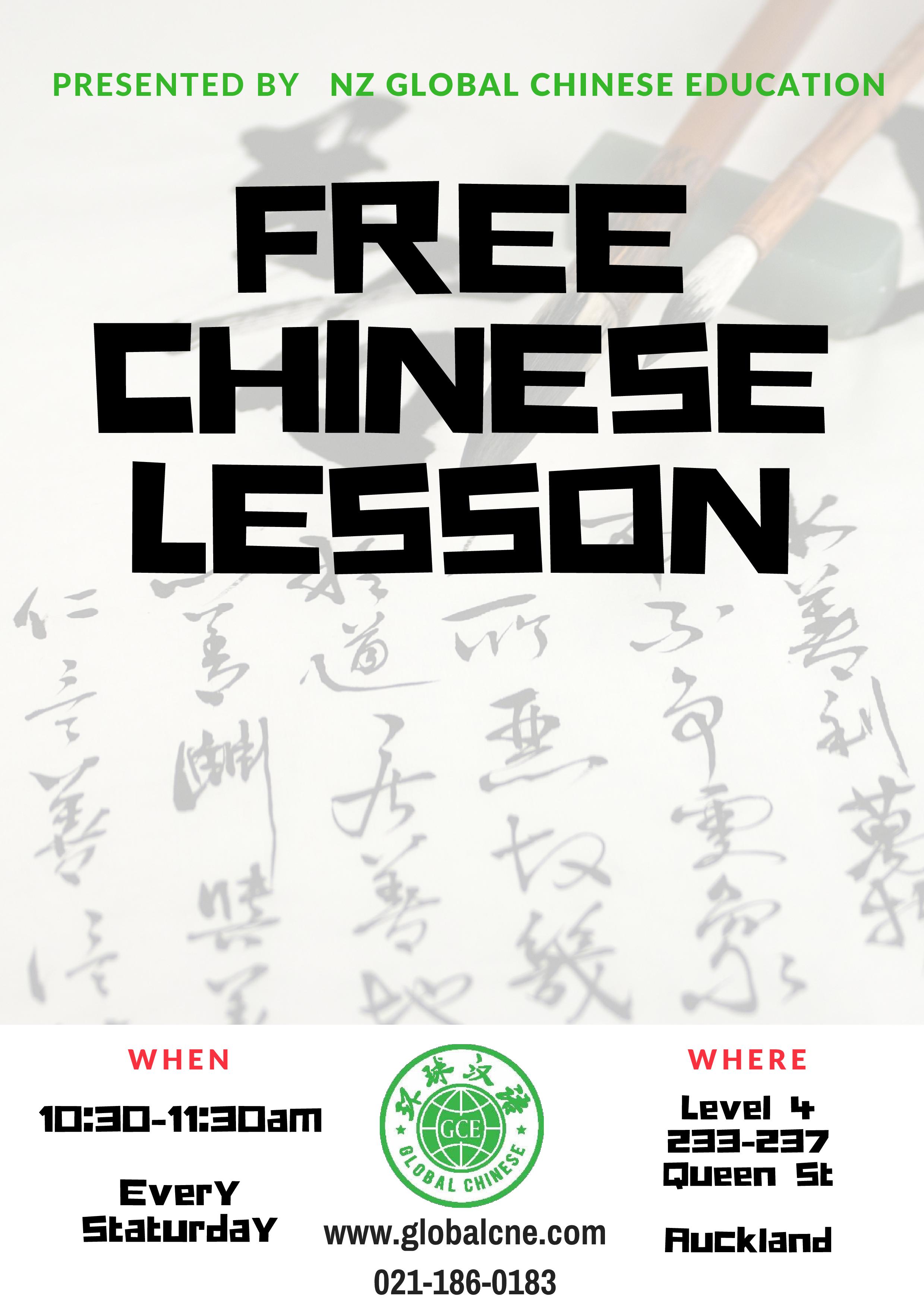 This is a free course that lasts for 8 weeks, 1 hour a week on Saturday morning. You don't need to know any Chinese language to attend to this class, everyone is welcome in the meetup. We want to take care of all our learners, making sure you can easily jump in, have some fun and learn something useful. Therefore, our courses are well designed for beginners. The course is topic-based and easy to follow. 

Here is the course plan: 

1. Number 
2. Time 
3. Direction and Location 
4. color 
5. weather 
6. Chinese Festivals 
7, Chinese Characters 上 
8, Chinese Characters 下 

The lessons arevery practical, including some idioms, useful vocabulary, common grammars. I assure you will get interested, as class will involve a couple of avtivities and games. 

Also, we usually provide students with free snacks . The whole section usually lasts about 1 hour. It will be a great opportunity for you to meet people with same interest, and learn Chinese together. We look forward to seeing you guys there. 

同时,如果你现在已经能使用汉语交流,请参加我们的汉语高级班。课程主要内容为汉语语法和中国文化。课程能够帮助你快速提高汉语,了解语言的文化背景,让你的汉语更加地道。 

In additon, we watch a Chinese movie with English subtitles every Friday 18:00-20:00. A short lesson associated to the movie will be held as well. 

每周我们都会为学习中文的朋友提供一节免费的中文课。课程以学习日常汉语和做游戏为主,内容实用,生动活泼。我们还会准备一些零食和水果,希望广大的中文爱好者参加。 
We will show a free Chinese movie 15minutes after the class which comes with a cultural talk. Please participate and enjoy

BYW, some people feel not easy to find us. The building we are in is a green building called Arcade. There is a pass way in the middle of the building, enter the pass way and walk 15 meter, and then used the elevator/stairs on your right. 

If you still fail to find us, call me 0211860183(Ke). 

If you enjoy learning Chinese with us, please like us on Facebook and leave a review. 
https://www.facebook.com/GlobalChineseEducation/ 

Or Google 'NZ Global Chinese Education' and leave a comment on the right column. 
More information about us: http://www.globalcne.com
Save This Event
When & Where

NZ Global Chinese Education
233-237 Queen Street
Auckland, Auckland 1010
New Zealand

Organiser
NZ Global Chinese Education
We are dedicated to becoming the leading Chinese language education provider in New Zealand. We not only have standard courses, such as general Chinese, business Chinese and HSK preparation, but also provide various kinds of tailored courses. Our main campus is located in Auckland CBD, and more branches are arranging around other suburb in Auckland. We have the world-class administration team and have gathered the best Chinese teachers from all over New Zealand. We profoundly understand that Mandarin native speakers do not equal to qualified Mandarin teachers. All of our teachers have at least a Masters degree in relevant field and years' experience.
**FREE** Elementary Chinese Class + Chinese Movie