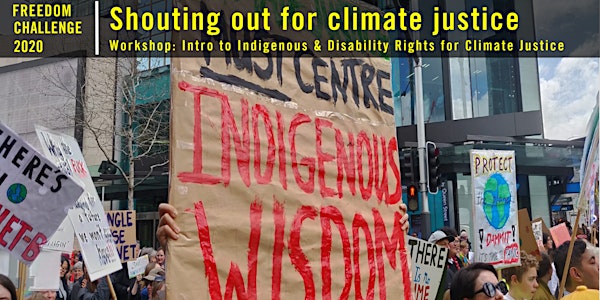 Freedom Challenge-Intro to Indigenous & Disability Rights 4 Climate Justice
Join Freedom Challenge 2020 workshop: Introduction to Indigenous & Disability Rights for Climate Justice!
About this event
Human rights are as much under threat as the environment when it comes to climate change. It's why within Freedom Challenge 2020 we'll be "Shouting out for climate justice"
To make that action effective and powerful we are hosting on and offline workshops with some of New Zealand and the Pacific's best youth climate justice advocates. They'll be offering insights and knowledge on how together we can better stand up for the rights of this planet and the people on it. Workshops will include creative and practical ways to get involved, build support, and ignite action!
Join Kera Sherwood-O'Regan via zoom to discuss Introduction to Indigenous & Disability Rights for Climate Justice.
About the event
Indigenous and Disabled People are already on the frontlines of climate change, but they also have solutions to build a climate safe future for us all. Come to this 90 minute workshop to learn how your climate action can uphold indigenous and disability rights, and what you can do to make the climate movement more inclusive and accessible for frontline communities.
About the facilitator
Kera Sherwood-O'Regan (Kāi Tahu, Te Waipounamu) is an indigenous and disabled multidisciplinary storyteller and rights advocate based in Aotearoa New Zealand. She is the Co-founder and Communications & Impact Director at Activate, an indigenous and disabled social impact agency specialising in campaigning and narratives for social change. Her work focuses on centering structurally oppressed communities in social change, exploring community-led collective storytelling, and seeks to raise the bar for free, prior, informed, and ongoing consent in the media. Kera's work is grounded in kaupapa Māori practices and approaches, and is informed by 15 years of activism within the climate movement. In her spare time she runs Fibromyalgia Aotearoa NZ, and advocates for indigenous rights at the United Nations climate negotiations and within the wider climate movement.
---
You can keep up to date with Amnesty International Aotearoa New Zealand on Twitter, Facebook and Instagram.