Fulbright Seminar: Christina Walker - The Milkman's Paradox: Farming Sustai...
Description
Fulbright New Zealand and the Fulbright New Zealand Alumni Association invite you to 'Christina Walker - The Milkman's Paradox: Farming Sustainably Under Nutrient Limits'.
As the water quality of Lake Rotorua changes, so changes the lives of its surrounding dairy farmers.
For the past 15 years, farmers have engaged in a community-wide debate on nutrient limits to clean up the second largest lake in New Zealand's North Island. This ongoing process has left many with a feeling of uncertainty about the future of their business and their town. With new environmental regulations comes change on a social, economic, and cultural level. This event will feature a documentary film and discussion on how dairy farmers adapt amidst the changing landscape of what it means to farm sustainably.
View the documentary trailer here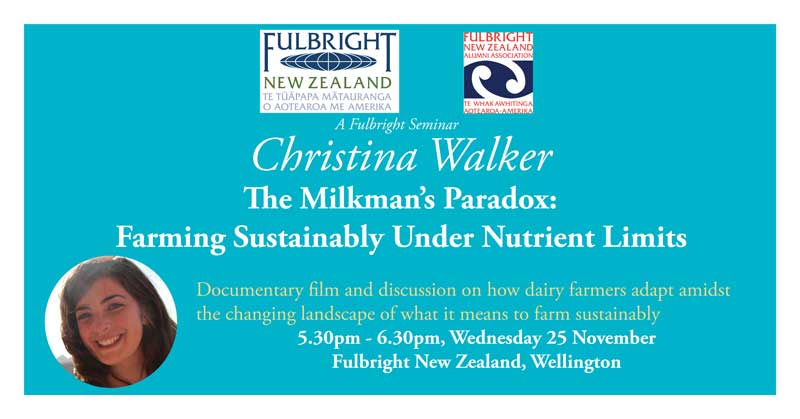 About Christina Walker
Christina Walker is a Fulbright Scholar researching how dairy farmers adapt amidst environmental regulations while remaining economically sustainable. Her research utilizes both ethnographic survey and documentary film to present farmers' narratives. Christina graduated cum laude in Journalism and Political Science from Northwestern University. While at Northwestern, she received numerous research grants to report on agricultural development in northern Uganda and South Africa's Northwest Province. Her reporting background also includes involvement with CNN International and Al-Jazeera English, where she worked on the news-planning desk and documentary unit.