Learn how academics can dramatically impact your opportunities from the Director of Crimson Athletics and former Division I athlete, Tessa.
About this event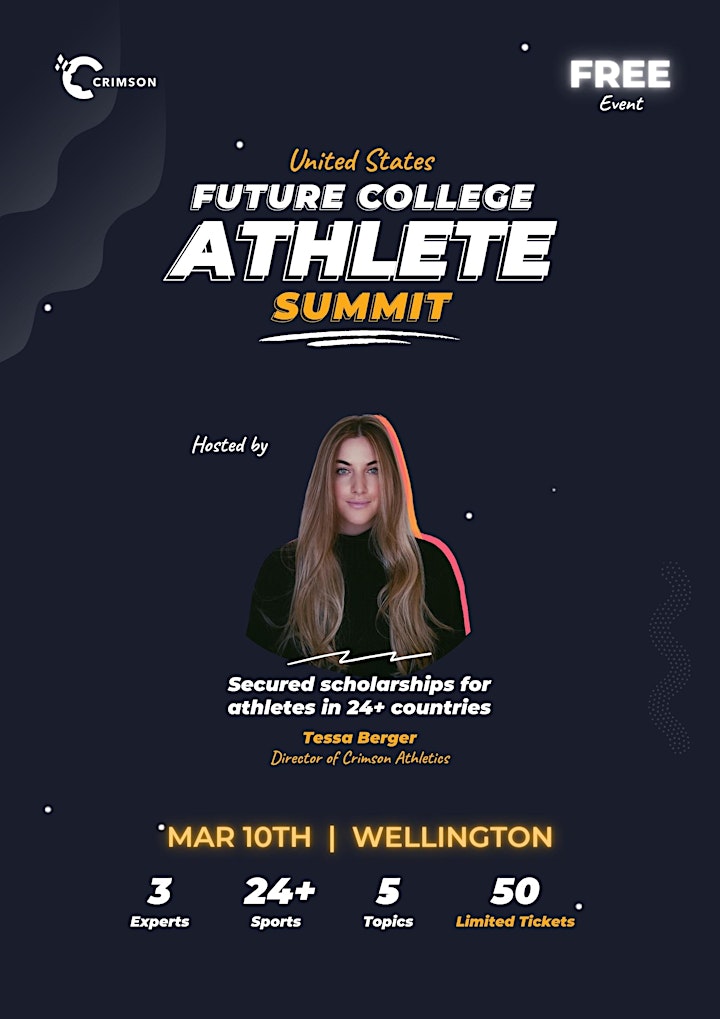 TOPICS
Securing Scholarship Funding
Building a Competitive Profile
Finding a Best Fit College
The Importance of Academics
Life as a College Athlete (Q&A)
Could your athletic talents help you increase your chances of getting into an American university?
Every year, hundreds of Kiwi students end up at schools across the NCAA and NAIA, training in the most elite facilities and competing in front of huge crowds, all the while earning an undergraduate degree.
But with thousands of students competing for limited scholarships, it could be time to hit the books as hard as the training ground to improve your chances of getting recruited.
Whether you're a rower, swimmer, soccer player, runner (or an athlete in any one of the 24 scholarship eligible sports!) US Colleges look at more than just your sport results and level of representation. They also look closely at your high school grades and standardised test (SAT or ACT) scores.
This crucial information seminar is for aspiring college-athletes at all levels, to better understand how to maximise your chances of getting into your best-fit university!
Attendees will learn:
A detailed breakdown of the US Athletic Recruitment process
The academic benchmarks and eligibility requirements
A comparison of the competition (NCAA Division I, II, III and NAIA)
How academics can secure additional scholarship funding
The advantages of a US college undergraduate degree
How to start your recruitment journey
Who should be at this event:
Year 9-13 students
Parents of aspiring athletes
Local sport coaches
Career Advisors or school sport coaches
Featured Speaker:
Tessa Berger - Director of Crimson Athletics
Division I Athlete for Florida Gulf Coast University
Received 30+ NCAA Division I Full Scholarship offers
Perfect 4.0 GPA & President's List honours
Represented New Zealand at the FIFA Women's World Cup
Mentored student-athletes to receive admission at Ivy League and top 50 US Colleges.
Parent Testimonial
"Crimson showed my daughter how to merge the academic with the athletic so she had support from both sides. Tessa and her team provided insight she could not get elsewhere. They were champions at my daughter's back and that made all the difference."
- Kim S. mother of Princeton University swimming recruit
Tessa will be flying in especially for this event so don't miss this chance to hear from an athletic scholarship expert! After the presentation, Tessa and Crimson staff will be on-hand to discuss your goals.
Want to see what some of our Crimson student-athletes are getting up to in college? Check out their Day in the Life videos on our 
Crimson Athletics YouTube channel.
Got a question? Email us at 
info@crimsoneducation.org.