Sales Have Ended
Ticket sales have ended
Thank you. You will receive an email with further details regarding your session. If you do not receive this email please check your junk mail box.
Event Information
Refund Policy
Refunds up to 7 days before event
Sales Have Ended
Ticket sales have ended
Thank you. You will receive an email with further details regarding your session. If you do not receive this email please check your junk mail box.
Gastric Band Hypnotherapy is the fastest, safest and easiest way to permanently lose weight.
About this Event
With over 15 years' experience and thousands of positive testimonials, Lyn Davis is New Zealand's leading Hypnotherapist specializing in the revolutionary Gastric Band Hypnotherapy.
Lyn has worked with Andrew Newton – Considered by many to be the world's most experienced hypnotist and has spent hundreds of hours watching him work, studying his techniques and methods and receiving ongoing training and mentoring for over one hundred tutorials.
HOW IT WORKS
Gastric Band Hypnotherapy makes your subconscious mind believe you have had the Gastric Band Surgery and that your stomach is now smaller. You will start to eat 3 smaller meals and 3 smaller snacks and you will feel comfortably full. It really is simple as that.
2% diets work - the only way to lose weight is to eat less and this will be easier for you as you have your gastric band fitted.
All food choices, cravings and addictions are harvested in your subconscious mind. Hypnosis is able to dive deep to the core of your subconscious - changing the way you think and feel about food, making it effortless to make healthier food choices and feel completely full and satisfied with smaller food portions.
Everyone responds differently to hypnosis - some people absorb the messages quicker than others. There are no guarantees with hypnosis and we do not offer a money back guarantee, as with most weight loss treatments. 
Statistics say gastric band hypnosis has a 95% success rate as opposed to the surgery which has a long term success rate of below 50% . This is because the surgery alters your body but it doesn't alter your mind unlike Hypnosis. 
This treatment is non-refundable, However please rest assured Lyn's success rate is very high as you can see with the great testimonies on our website.
Our sessions are held in small groups however your anonymity is maintained throughout the session with no other clients able to see you or your personal details.
You will need to attend two sessions over two consecutive days.
Session one - Thursday 4th February- 8pm (NZDT) Eliminates foods, drinks, behaviours, habits. (approx. 1.5 hours)
Session two - Friday 5th February - 8pm (NZDT) Fitting of your new Gastric Band, Self love. (approx. 1 hour)
You will need to attend both sessions on both days.
Session 1 runs for approximately one and a half hours and session two runs for approximately one hour.
COST
Treatment cost is $420 per person. This includes your two and a half hour session with Lyn & recordings to listen to after your session to help you make a permanent change.
AFTER CARE
You will receive 2 recordings to listen to after your session with Lyn. It is imperative to the treatment process that you listen to your recordings daily as these recordings assist you to make a permanent change.
FACEBOOK SUPPORT GROUP
For a small annual fee you will also gain access to our Facebook Support group. In our support group you will receive ongoing support and encouragement from Lyn, our team and fellow clients on the same journey. You will have access to healthy meal suggestions and recipes, exercise motivation and support, weekly live sessions with Lyn to help keep you on track and access to our Library of recordings.
Located in our library are 20+ recorded sessions covering a wide range of subjects and topics eg: Nail biting, smoking cessation, menopause, stress, anxiety, grief, motivation to exercise, increasing water, positivity and more.
Our support group is a private, supportive and encouraging environment and we do encourage all clients to join. For clients success stories and testimonies please see our Facebook page.
If you have any questions please don't hesitate to reach out.
Email - info@lyndavishypnotherapy.com
Facebook - Lyn Davis Hypnotherapy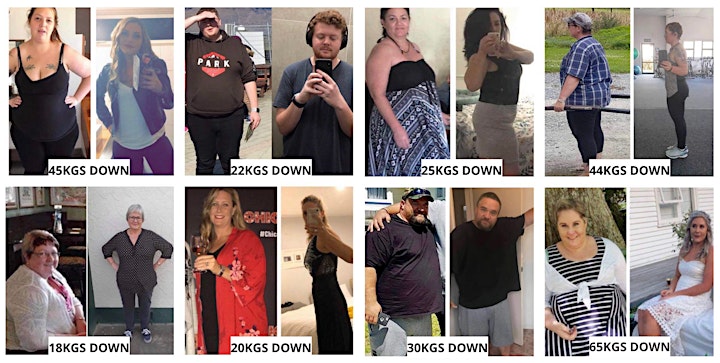 "I have maintained my 30kg loss for over 12 months and my journey continues, I feel very positive about life and have the confidence to stay in control. I have goals to continue working towards and am excited about my future. I will be grateful for my hypnosis experience with Lyn for the rest of my life." - Kathryn
Date and Time
Location
Refund Policy
Refunds up to 7 days before event