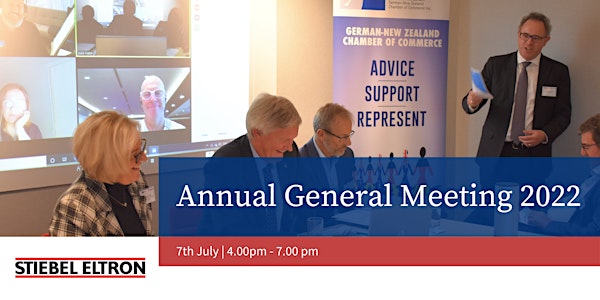 German-New Zealand Chamber of Commerce AGM 2022 & Members Networking
Location
Stiebel Eltron
61 Barrys Point Road
Takapuna, 0622
New Zealand
Register now to be part of our Annual General Meeting 2022. Hosted by Stiebel Eltron.
About this event
MEMBERS ONLY
We are delighted to extend an invitation to you and your colleagues to attend our 39th Annual General Meeting (AGM) 2022.
Please see the Agenda below which includes links to the Minutes of the previous AGM and the 2021 Financial results, 2021 nominated Executive Committee, and the all-important nomination form should you wish to nominate a member to stand.
We plan to run our AGM with its usual German efficiency, in about 30 minutes, to ensure there is plenty of time for members to catch up over a drink after the formalities. Our host for the evening will be German Subsidiary Stiebel Eltron.
Please register your attendance or apology by close of business on Friday, 17th June 2022.
TIMETABLE
4.00 - 4.30pm - Official Agenda
4.30 - 7.00pm - Networking
AGENDA FOR THE AGM 2022
1. Welcome by GNZCC President, Mr Jim Bibby
2. Apologies
3. Approval of the Minutes of the 38th Annual General Meeting – preview here
4. President's Annual Report
5. Adoption of the Annual Accounts 2021 - preview here
6. Appointment of Auditor
7. Membership Subscriptions
8. Election of the Committee and Officers
9. General Business
NOMINATIONS
To see our present committee members, please click here. This year some changes have been indicated and new nominations are welcome. To make a nomination for the Executive Committee please download the nomination form. The Nomination deadline is on Friday, 17 June 2022.
Click here to download the Rules of the German-New Zealand Chamber of Commerce Inc.