Why is screening important, and why does early ID of rare conditions such as congenital hypothyroidism matter? A Liggins Institute webinar.
About this event
Newborn metabolic screening is an under-appreciated and important approach to preventing long term effects of disease in affected children. Colloquially known as the 'heel prick' test, newborn screening checks for over 24 serious conditions where early diagnosis can improve long-term outcomes. It began in New Zealand in 1969, and one of the earliest diseases screened for was a deficiency in thyroid function – also called congenital hypothyroidism.
Congenital hypothyroidism is among the most common preventable causes of intellectual impairment. When it is identified and treated early, babies are likely to develop normal or near normal intellectual function. But why has the world-wide prevalence of congenital hypothyroidism increased so substantially over the past 30 years? And how do we improve identification of the condition in babies born preterm?
In this fascinating public lecture, Liggins Institute Professor of Paediatric Endocrinology Paul Hofman will present a selection of Liggins Institute studies performed in collaboration with the newborn screening programme. He'll be joined by Dr Dianne Webster, director of the newborn screening programme, who will explain how the programme works. Paediatric endocrinologist Dr Natasha Heather, Clinical Lead to the newborn metabolic screening programme, will present information about New Zealand infants with congenital hypothyroidism, including outcomes and probable reasons for an increased frequency of cases.
Finally, newborn screening offers a powerful approach to examining newborn health for other research purposes. One such study has just been completed at the Liggins Institute looking at iodine excess in mothers. Iodine excess can cause hypothyroidism in the mothers and also has similar and prolonged effects in the offspring. In the study, newborn screening hypothyroid testing was used to assess whether there were ongoing effects in these newborn infants.
Join us for this insightful and thought-provoking online public lecture to learn more about New Zealand's world-leading newborn screening programme and to explore how early diagnosis of congenital hypothyroidism can help babies thrive.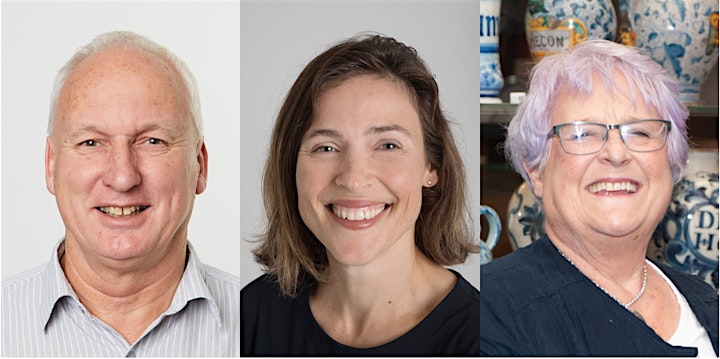 About the speakers
Professor Paul Hofman is a Professor of Paediatric Endocrinology at the Liggins Institute, a senior clinician in the endocrine team at Starship Children's Hospital and a past President of the Australasian Paediatric Endocrine Group and the Asia Pacific Paediatric Endocrine Society. He has a long and ongoing association with the national newborn screening unit.
Dr Natasha Heather (centre) is a paediatric endocrinologist with an MD from the Liggins Institute. She is Clinical Lead to the NZ newborn metabolic screening (Guthrie card) programme. She received the 2018 Dussault medal from the International Society of Neonatal Screening for her regional contribution to newborn screening.
Dr Dianne Webster has been Director of the New Zealand Newborn Metabolic Screening Programme for over 30 years. She has considerable experience in supporting developing programmes to initiate screening, and holds leadership positions with several international societies that support excellence in screening. In 2020, she was recognised with a CNZM for her services to child health.

Organiser of Getting in early: the value of newborn screening for rare conditions
We're dedicated to improving lifelong health through excellent research into the long-term consequences of early life events. Our vision is 'a healthy start for a healthy life'. You can get involved by joining a clinical trial, coming to an event, making a donation or simply sharing the research going on at the Liggins Institute with your networks.