About this Event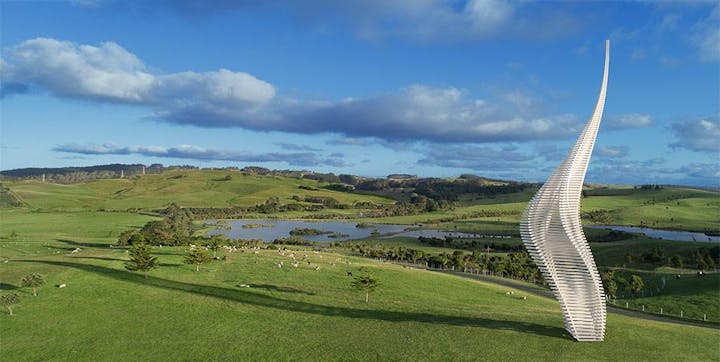 The celebrated Gibbs Farm is an expansive open-air sculpture park located on the magnificent Kaipara Harbour, north of Auckland. The park boasts a series of major site-specific commissions and is the greatest collection of large-scale outdoor sculptures in the country.
You'll roam free-range among the sculptures and come face-to-face with some truly exotic animals while marvelling in the sheer scale of the sculptures featuring works by some of the world's most renowned artists such as Gerry Judah, Richard Serra, Anish Kapoor, Neil Dawson, Andy Goldsworthy, Sol Lewitt and so many more.
Bring your own picnic lunch or pre-order an Eat My Lunch pack to be collected on the day. Every lunch ordered gives a free lunch to a Kiwi kid in need.
The park is a 3 to 4 hour walking experience. Wear comfortable walking shoes and bring a hat, sunblock and water.
On the day please arrive at the Barr Road entrance of Gibbs Farm with your ticket where you will be greeted by an event representative.
Terms and Conditions
Tickets are non-transferable and non-refundable
This event goes ahead regardless of weather
Photography is allowed but drone use is strictly prohibited
Gibbs Farm is a multiple hazard area – persons entering this property must comply with all safety regulations under the Health & Safety in Employment Act 1992.
Please adhere to all signage.
Gibbs Farm contains a variety of animals that roam freely. Please do not feed or chase them.
No animals or domestic pets are allowed…. believe it or not this includes dogs.
Please do not climb on or into any sculptures.
Please remove all rubbish.
Alcohol is not permitted.
Access to all artworks is by foot.
Good walking shoes are necessary as the farm is a 3-4 hour walking experience.
Please read the full Gibbs Farm's Terms and Conditions before booking your tickets.
Gibbs Farm is a private property open by appointment only on scheduled monthly visitor days. www.gibbsfarm.org.nz.
No entry fee is applicable when visiting Gibbs Farm by appointment; the Trustees of Gibbs Farm have generously allowed us to arrange this event as a key fundraiser for Waioneke School.
LUNCH OPTIONS
The fabulous team at Eat My Lunch will be providing lunches on the day. You MUST pre-order these when you purchase your tickets.
Classic Lunch
This lunch consists of 4 items:
1. Main – This could be for example a roll, wrap, pide, croissant, pasta salad 2. Healthy snack – This could be bagel chips and relish, corn chips and salsa, hummus and crackers. 3. Piece of fruit. 4. Sweet treat – This could be for example a mini carrot loaf, mini ginger loaf, whoopee pie.
Hungry Lunch
This lunch consists of the same items as the Classic Lunch, except with larger portion sizes and one added item (5 items in total)
Gourmet Lunch
This lunch consists of 4 items: Our gourmet lunch however is something a bit special. Restaurant quality ingredients consisting of 4 items including a dessert.
It has been designed and is (mostly) made by our head chef Michael Meredith. The menu items vary however a typical lunch could include a smoked salmon and wasabi mayo salad, with a house made pannacotta, gourmet selection of cheese and crackers and a fresh bread roll.
DRINKS
Please bring along enough to water to drink, there are no shops at Gibbs Farm.