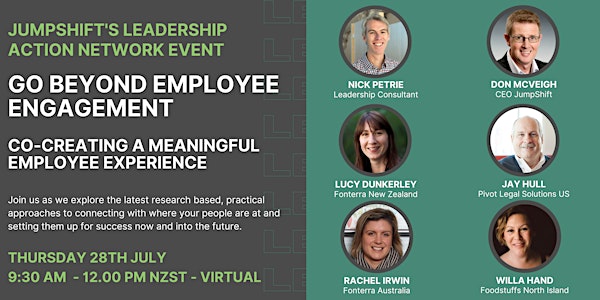 Go beyond employee engagement, co-creating a meaningful employee experience
Refund policy
Contact the organiser to request a refund.
Eventbrite's fee is nonrefundable.
Sales Have Ended
Ticket sales have ended
Sales have ended for this event, please check in periodically for the next Leadership Action Network session.
Unfortunately this event has been cancelled
About this event
This event is virtual
What's possible? Imagine a world of work where your leaders and staff bring their 'A-game', applying their unique capabilities to meaningful work. Imagine going beyond employee engagement to create an exceptional employee experience.
Having a meaningful employer brand is more like the 'ticket to the game', it's what's expected! With the great resignation, the war for talent, challenge of change, future employees expect more from organisations and are voting with their feet.
And yet, many leaders and employees in organisations are exhausted. Current research efforts by Harvard Business Review, Ernst & Young and our own Nick Petrie are exploring the link between performance, engagement, and burnout.
For many, a fitting analogy is "I went out one day for a gentle 5km training run and found myself in a 150km multi-terrain endurance event, but the organisers forgot to set up the refreshment stands, there were no distance markers and the finish line kept being moved!"
So where to begin? Awareness, through lenses and assessment tools, is key to enabling choice and meaningful behaviour change. Come and join us and our panel as we explore the latest research based, practical approaches to connecting with where your people are at and setting them up for success now and into the future. And if you don't, beware, it's a business continuity risk!
Find out:
How can we connect in with and become aware of how our people are really feeling, to better support them?
Why is this even more critical now than ever before?
What is the research telling us about workplace culture and how do we develop ours to support our people?
What is our duty of care and how do we navigate performance and engagement whilst avoiding burnout?
The workshop will look like this:
Welcome and purpose
Intro and chance to connect with like-minded leaders
Diagnose your own context. Learn from one another, positives and watch outs from experiences of connecting with how people are really feeling.
Inspire via Lenses and our guest panel. The tools available to connect with people, the latest research and principles behind them, and the experiences of people who have used lenses for personal and professional development.
Your Action: Reflect on the insights shared and application within your own context. Stay in touch with peers from other organisations and industries to support one another along the journey.
---
The Leadership Action Network has the following principles:
- Benefit: Every event will provide direct benefit to every individual.
- Action: We will build our success and network through doing worthwhile things not just talking.
- Accountable: We will each hold other members of the Leadership Action Network accountable to do what we say we will.