Location
63 Hugo Johnston Drive
63 Hugo Johnston Drive
Auckland, Auckland 1061
New Zealand
Get ready for a night of invaluable connections and inspiration with fellow business owners, entrepreneurs, leadersh, speakers & authors.
About this event
After a few lockdown delays it's finally happening! Save the date and book your seats lovelies for a night of fun, inclusive & genuine connections and we would love to see you there!
**Please note** This is an inclusive event so this event will only go ahead if we are in green status or if the traffic light system has been dropped by 24th Feb. If this is not the case I will simply reschedule the event for March and you will retain your ticket.
Picture this... You arrive wearing an outfit that makes you feel confident & comfortable. Some yummy nibbles & drinks await you. Straight away you recognise a few people from facebook and a few others that you've met before but haven't seen in ages. Suddenly you're so glad you came as you are proactively introduced to a few other amazing people. You're feeling included & inspired!
It's been THREE years since I've done one of my infamous Go to Girl Networking Nights and now we crave in person connections more than ever so I'm super pumped to be welcoming you to come along! Join us for an evening of invaluable insight & connections for your life or business.
The theme for this event is: Amplify your Impact and I'll be sharing some of my 'Maximise your Superpowers keynote' as well as having an awesome panel of people who are experts in their field sharing actionable tips and insights for you - to help you Amplify your Impact as well!
Over the years hundreds of awesome people have made invaluable connections through my Networking Nights & events and I'm excited for this to continue - now more than ever! Both men and women welcome.
My hope & intention is that you'll leave having met at least 3 NEW people that you're excited to connect with again. And for you to gain some insight/inspiration for your business/job/life.
Book your spot & join us on 24th MARCH2022 6:30-9:30pm at Notion in Penrose, Auckland: UnitP/63 Hugo Johnston Drive.
Book a single ticket or book a double ticket and bring your bestie!
This is YOUR night & we're excited to connect with you and see how we can help you to make 2022 as Awesome as possible! x Nat, Go to Girl
Spot prizes
5% of the proceeds will be donated to I'm Enough Trust - Digital resilience for kiwi kids.
VIP ticket includes a personal introduction to the room at the event & promo posts on social media in the lead up to the event.
Powerful Speaker Panel...
We will have an incredible panel for you each with their own unique expertise and insight to share with you on the theme of 'Amplify your Impact'. TBC
**Please note** I do not support the traffic light system so this event will only go ahead if we are in green status or if the traffic light system has been dropped by 24th Feb. If this is not the case I will simply reschedule the event for March and you will retain your ticket.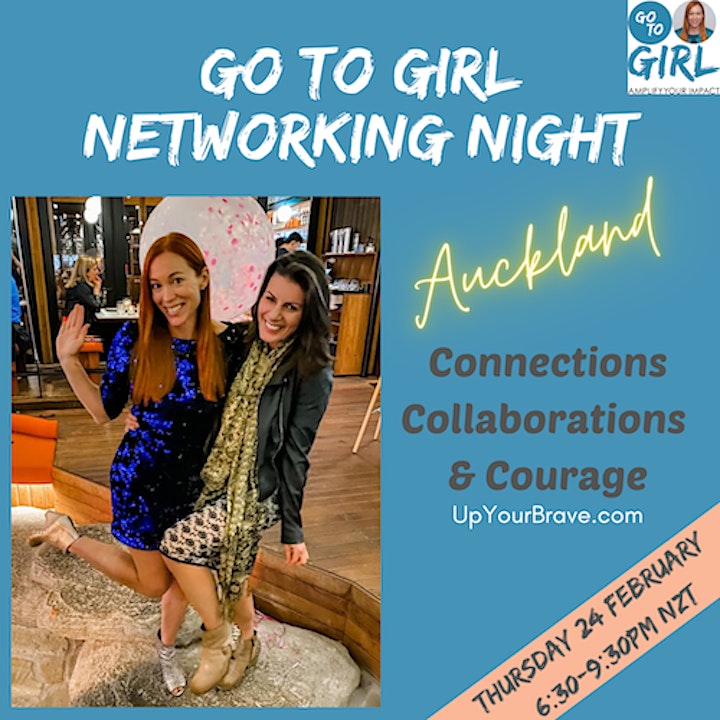 Your Host & Keynote Speaker on the Night
Natalie Cutler-Welsh is your Host & Speaker on: Maximising your Superpowers to Amplify your Impact.
Are you maximising or 'maxing out your Superpowers'? In this talk, Natalie will help you to identify your top two Superpowers and how you can maximise them to Amplify your positive impact.
Natalie Cutler-Welsh also known as the Go to Girl is a Visibility and Connections coach, an International speaker, MC, author, and mother of three. Natalie specialises in helping "the people who help the people" to get their message out and achieve their mission on a bigger level - online, on stage or in the media.
She has coached and trained hundreds of individuals, entrepreneurs and organisations to up their brave and maximise their Superpower to amplify their impact and change the world for Good.
She has spoken to groups and audiences as small as 4 and as large as 4500 people. And she is looking forward to sharing tips and insights with you!
Natalie is Founder and Chief Connector at Go to Girl Ltd and Go to Girl Essential Wellness. She is co-author of parenting book, blog & podcast If Only They'd Told Me, creator of the #UpyourBrave video series, the Amplify Mastermind group and the Thriving Teens & Tweens event series.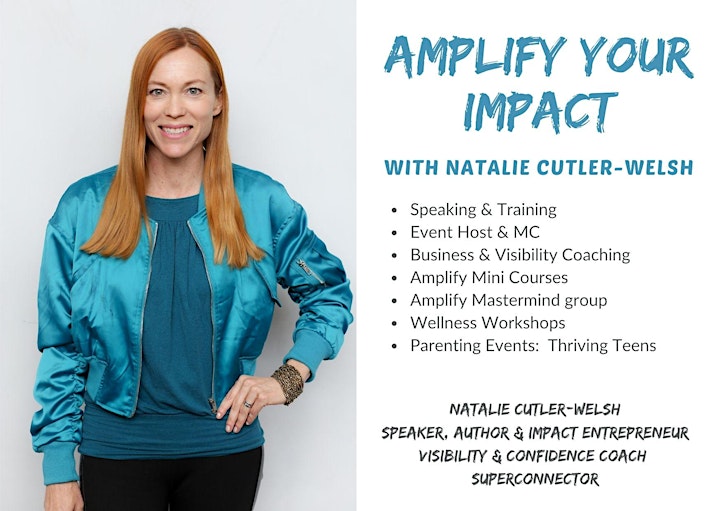 See you there!
Book your spot and tell your friends! This will be a fun, insightful & inspirational event that could also be a turning point for your career or business.
See you there! Natalie Cutler-Welsh aka Go to Girl
FAQ
Is there parking at the venue?
Yes there is lots of parking right outside. The venue is Notion Unit P/63 Hugo Johnston Drive in Penrose, Auckland. *Nearby to Mount Smart stadium.
Can I bring my partner along? This event is designed for existing or aspiring business owners, speakers, authors & entrepreneurs. You are of course welcome to bring your partner (business or relationship partner) along - just book the Double ticket.
What other locations are you doing? Alas it's just Auckland at this stage. Contact me if you're keen for one in your area and we can chat.
Will we need a vaccine passport?
No I do not support the traffic light system so if vaccine passports are still required by the venue I will be postponing the event.
__________________________________________________________________________
Any Ticket refunds?
In the event of a Covid 19 Lockdown in level green the event will proceed (with no more than 50 people attending). In the event of a L3 lockdown or orange/red traffic light the event will be postponed and rescheduled rather than cancelled. No refunds available but you are welcome to swap or gift your ticket.
Any digital tickets?
We won't be livestreaming the event but we may do an Online Networking Night in October or November - message me if you're keen for that and if I get enough interest I'll make it happen.
Any Sponsorship Opportunities?
Yes we have 2 Sponsorship spots available. Contact Natalie to arrange. Your business must be align with the philosophy of changing the world for Good.