Get ready for invaluable connections and inspiration with fellow business owners, entrepreneurs, speakers & authors.
About this event
This event is more about "Empowered Connections" than Networking. Meeting, aligning, collaborating with like minded people can be a game changer in your business - both for your impact & income!
So.... with that being said I'd love to see you at this ONLINE event of inspiration & connections happening Thursday 2nd December.
The theme for this event is: Amplify your Impact and that is exactly what you can do by connecting with, collaborating with amazing people. People who I'm sure you'll have synergy with and who knows what magic will happen from this for 2022!
I'll be sharing 3 specific ways that you can do this in your life/business and then we will dive into some introductions and empowered connections via breakout rooms and done-with-you networking!
Book your spot & join us on 2 Dec 2021. 7:30-9pm NZT on zoom.
This is YOUR night & we're excited to connect with you and see how we can help you to make the rest of 2021 as awesome as possible & to create some incredible connections & momentum for you for 2022.
x Nat, Go to Girl
Spot prizes
5% of the proceeds will be donated to I'm Enough Trust - Digital resilience for kiwi kids.
VIP ticket includes an extended introduction/offer to the room at the event & 2 x promo posts on social media in the lead up to the event.
Flow of the event:
Welcome from Nat & 3 tips to Amplify your Impact
Introductions:
Each attendee will have a chance to share with us a brief 45 second intro - You can focus on who you help, tell us about an offer/something you want to promote or let us know how can we help /who you want to connect with.
Breakout Rooms:
You'll have a chance to connect with 5 other attendees for 10 minutes of extended introductions & inspiration.
Wrap up:
Spot prizes & final words from Nat.
Following the event I'll email you a list of names & niches & website info for each attendee.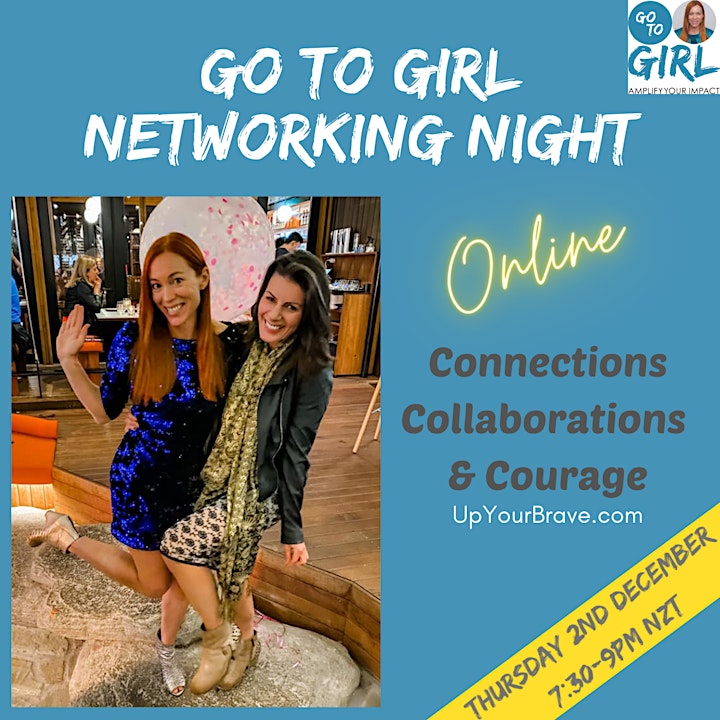 Your Host & MC
Natalie Cutler-Welsh is your Host & MC for this event
Are you maximising or 'maxing out your Superpowers'? In this talk, Natalie will help you to identify your top two Superpowers and how you can maximise them to Amplify your positive impact.
Natalie Cutler-Welsh also known as the Go to Girl is a Visibility & Connections coach, an International speaker, MC, author, and mother of three. Natalie specialises in helping "the people who help the people" to Amplify their Impact, Leadership & Legacy so they can Change the World for Good.
She has coached and trained hundreds of individuals, entrepreneurs and organisations to up their brave and maximise their Superpower to amplify their impact and change the world for Good.
Natalie is Founder and Chief Connector at Go to Girl Ltd and Go to Girl Essential Wellness. She is co-author of parenting book, blog & podcast If Only They'd Told Me, creator of the #UpyourBrave video series, the Amplify Mastermind group and the Thriving Teens & Tweens event series.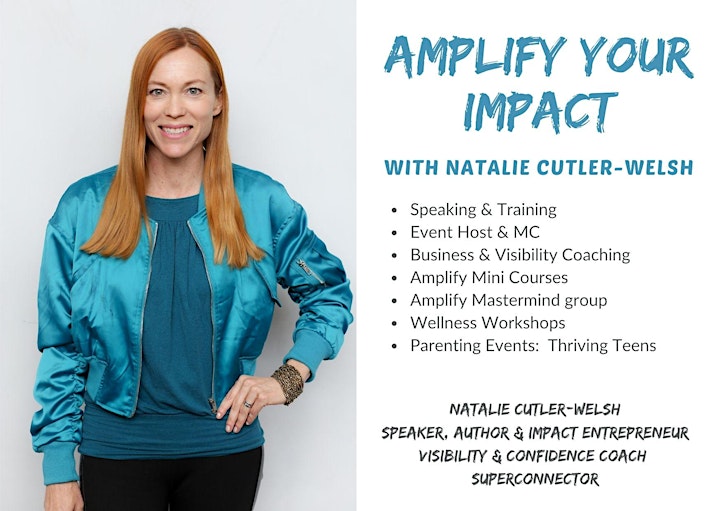 See you there!
Book your spot and tell your friends! This will be a fun, insightful & inspirational event and the connections you make, could also be a turning point for your career or business.
See you there! Natalie Cutler-Welsh aka Go to Girl
FAQ
Are you doing an in person event?
Sadly due to lockdown I have postponed the in person Networking Night to 2022. I'm hoping for Feb/March.
I can't make this date will you do others? Yes I will likely do one other online event in 2021 - this will be a daytime event.
__________________________________________________________________________
Any Ticket refunds?
No refunds available but you are welcome to sell or gift your ticket to a friend.
Any Sponsorship Opportunities?
Yes we have 2 VIP Sponsorship spots available. Contact Natalie to arrange. Your business must be align with the philosophy of changing the world for Good.
Date and time
Location
Refund policy
Organiser of Go to Girl Networking Night - ONLINE
Natalie Cutler-Welsh is on a mission to massively raise the state of resilience, health and happiness in New Zealand and on a global scale. As a Visibility and Confidence coach, an International speaker, MC, Parenting author, and mother of three, she specialises in helping "the people who help the people". Known as the Go to Girl, Natalie works with organisations and individuals to maximise their Superpowers, Amplify their impact and change the world for Good.
As seen on the AM show, Seven Sharp & Breakfast TV, digital media and stages with up to 4500 people, and numerous online & print publications, Canadian-born Kiwi, Natalie is known for her entertaining and on-point insights, Up Your Brave and Superpower talks and Amplify workshops and courses that leave people feeling empowered and inspired towards positive change.

Natalie is Director and founder of Go to Girl Ltd and co-author of parenting book, blog & podcast If Only They'd Told Me, a Wellness Advocate at Go to Girl Essential Wellness and creator of the Up Your Brave video series.
https://nataliecutlerwelsh.com/