Description
Cyclone, in partnership with Google, is taking a special roadshow around New Zealand to help schools ensure kids are safe as possible when online.
BYOD programmes provide students with tremendous opportunities, but they also expose them to numerous online risks. Many schools and caregivers want to minimise the possibility of students being exposed to harmful online content, whatever network they're on -- school, home, or cellular hotspot.
On this roadshow, Saunil Hagler - Cyclone's Google Education Business Manager and a Google Certified Trainer - will overview how the Google for Education solution can be configured with safety and security front of mind. Special attention will be given to how the Google for Education solution can be configured to protect students when they're away from the school, on their generally unprotected home network, or any other network.
Special guest presenter, Christie Tannous from Google, will also give attendees a sneak peek into Google's exciting Education roadmap.
Early Registration Giveaway!
Register before July 14th and go in the draw to win a Google Chromecast. One will be drawn at each event.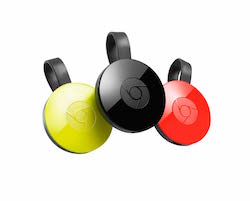 Prizes and Giveaways
We're giving away some cool toys, including Chromebooks, Chromecasts, Google Cardboards, and professional development support to help your school use Google technologies better.
We'll also have the best new Chromebooks on display so you can have a hands-on play.
Who should attend?
This event is for any schools who want to ensure their students are safe when using online services, including those that are part of Google's G Suite for Education (Mail, Drive, Hangouts). Even if you don't use the Google for Education solution, you should attend to understand how you can adopt the Google ecosystem to keep kids safe online.
Recommended for:
Any school using the Google for Education solution (G Suite Services, Chromebooks), or thinking of using it.

Any school allowing BYOD devices onto their school network, or planning to go BYOD.

Educators responsible for managing technology in their school, and those responsible for ensuring health and safety standards are met (NAG 5). This may include principals, deputy/associate principals, ICT coordinators and eLearning lead teachers.
Follow-ups freely available for schools where key staff are unable to attend.
This is a FREE EVENT presented by Cyclone, in partnership with Google.
NB: This event is only for primary, secondary and tertiary education providers. Please use your education organisation's email address when registering for the event. You will be asked for this on entry to the event.
Please do not register if you are associated in any way with a company or companies that offer products and services similar to Cyclone.
Questions? Contact Cyclone's Google Business Manager, Saunil Hagler saunil.hagler@cyclone.co.nz