You've Got To Get Out and hike the Tongariro Crossing with a group of outdoor lovers! Pickups Auckland, or en route to Nat Park by request
About this Event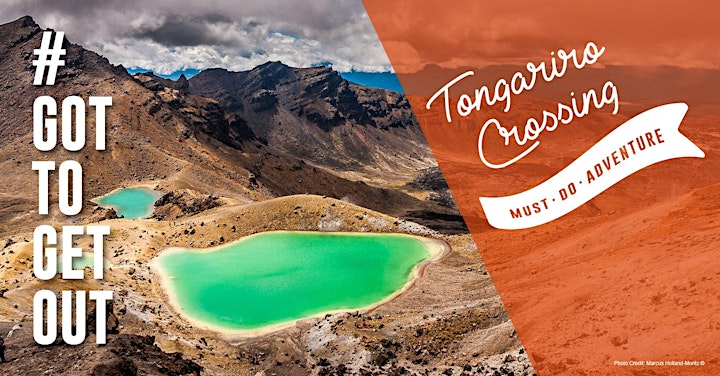 After polling the Got To Get Out community, everyone said they want to hike the Tongariro Crossing!
So this years first Got To Get Out Must Do Adventure of 2020 is hiking the world famous Tongariro Crossing.
For your ticket cost we will arrange everything and ALSO every ticket sold will get a kid outdoors on a day-hike in Auckland. We call this new initiative 'Hike One Give One".
GTGO will provide transport in our buses to and from Auckland (and collecting people en route south of Auckland if pre arranged such as in Huntly or Taupo), two nights accomodation in a lovely ski lodge (our first time at a new one this year), drop-off to and from the start of the track included, and trip hosting by Got To Get Out founder Robert Bruce.
To keep your cost down (and stay within the rules of DOC concessions) this is an unguided trip, meaning the actual walk is not guided. You will be walking with a friendly experienced goup, and all gear lists will be pre supplied. Safety management will still be applied to the whole trip including whether to hike or not, based on weather conditions.
Expect to have good times, get fit, make awesome connections, share kai (food) and have lots of korero (discussions)!
By the way, on Day #2 of the adventure you will have the option of a second walk nearby (possibly Taranaki Falls), visit the Sky Waka on Mt Ruapehu, go indoor rock climbing in National Park or just chill in the accomodation before leaving early afternoon. Sunday will also be our rain-out day, if Saturday is not good weather.
Timing:
Friday:
6pm meet downtown Auckland, with pickups along the way if requested.
630pm departure or when everyone arives
8pm dinner in Huntly
11pm arrive accomodation
Saturday:
7pm depart for crossing, gear check and morning briefing
6pm shared dinner
Sunday:
half day activiity (or rain-out day for Crossing)
depart early afternoon
8pm (latest) return Auckland, with drop offs along the way if required.
Full gear lists supplied via email to those who join the trip!
You've #gottogetout for our first #mustdoadventure in 2020!