GREEN Grid Conference 2018
Description
Do you want to learn more about the impact of increasing distribution generation and new technologies (EV, renewable, storage…) on the grid or on your network?
SAVE THE DATE!
2018 GREEN Grid Conference & Electric Vehicle Seminar
When? 13 April 2018 - 9am to 4pm
Where? Christchurch, University of Canterbury – Engineering Core
Register now (free).
Join us this year on the UC campus in our brand new building for our 5th GREEN Grid conference.
The morning will be focussed on recent research findings from the GREEN Grid project and will present tools that can be used to manage changes brought about by distributed and intermittent generation such as photovoltaic solar power and wind generation.
The morning sessions will be facilitated by GREEN Grid Principal Investigator Assoc. Prof. Alan Wood. Speakers include Dr Janet Stephenson and Dr Michael Jack (CSAFE, University of Otago), Dr Bill Heffernan (EPECentre, UC) and GREEN Grid postgraduate students (Luke Schwartfeger, Josh Schipper and Michael Campbell).
The conference will be followed by an EV seminar. The objective of this seminar is to share the learning and experiences from different projects led by researchers, postgraduate students and industry members.
It will include short talks about EV uptake and trends, EV energy storage technologies and range, an evaluation of EV performance from a user's perspective, including battery ageing, EV impact on EDB's network and more. The UC Motorsport 100% Electric Formula SAE race car will be on display, and you will be able to race the car yourself in their VR simulator.
This seminar will be facilitated by Prof. Neville Watson. Speakers include Elizabeth Yeaman (EECA), Stephen Godfrey (Orion) and Eric Pellicer (Powerco), Russell Watson (Northpower), Yee Mei Vong and Shaneel Singh (EA Networks), Assoc. Prof. Paul Gaynor (UC), Leatham Landon-Lane (UC), Daniel Myall (Flip the Fleet) and Ed Harvey (EVNEX).
---
Conference Sponsors: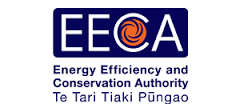 ---
What is GREEN Grid?
GREEN Grid is officially titled the Renewable Energy and the Smart Grid project, funded by MBIE and the Electricity Industry. Its main focus is on Managing Supply Variability of Renewable Energy in the Network and Cost-effective, Functional and Safe Distribution Network. For more information.
---
For more information, if you wish to sponsor this conference or if you want to have a stand, please contact us at: info@epecentre.ac.nz or 03 369 3114.