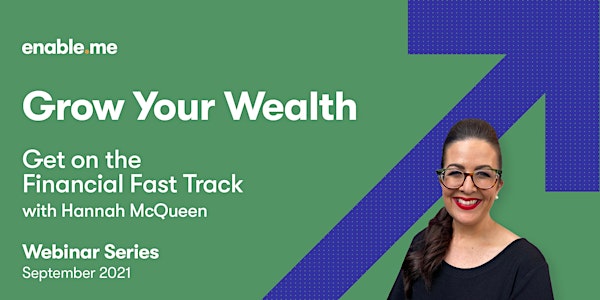 Grow your wealth - Get on the Financial Fast Track with Hannah McQueen
Grow Your wealth - Get on the Financial Fast Track with Hannah McQueen
About this event
This webinar is designed for those wanting to grow wealth, maximise their current position and create a strategy to make the most of their opportunities.
Amid low interest rates, volatile share markets, high house prices and investment regulatory changes, it can be hard to know how best to invest.
Throw in Covid and lockdown's impact on the economy and it's a recipe for sleepless nights.
Join financial strategist and enable.me founder Hannah McQueen for this free webinar to cut through the noise and understand your investment options.
The seminar will cover:
The key elements your wealth plan requires
Property - should it still be part of your investment mix?
Managed funds
Why you need to be wary of the thief that is inflation
KiwiSaver - what your strategy should be to contributing
Managing your wealth
Hannah McQueen is a leading financial adviser, chartered accountant and best selling author of How to Kill your Mortgage & Sort Your Retirement and Pocket Money to Property - How to Raise Financially Independent Kids.
Hannah and the team of advisors at enable.me have helped thousands of Kiwis get mortgage-free, grow wealth, and sort their retirement. Don't miss the opportunity to fast track yourself to financial freedom.
Reserve your spot today