Growing new plants for free – come and learn the art of propagating
Grow plants for free by learning how to propagate successfully with our specialist tutor.
About this event
There are many different ways to multiply plants and picking the right method depends very much on the habit of individual species. Warren Kerruish is an experienced local propagation specialist and horticultural educator. He will be sharing his expertise, in a small group setting, to help unravel the mysteries of successfully making more plants.
The workshop will cover a comprehensive range of techniques with advice on:
Seeds – germinating, scarification, storing, growing
Vegetative propagation – cuttings (hardwood/softwood), layering, division
Equipment - propagators, potting mixes, nutrients, other preparation products
Successful growing
The morning information session will be followed by hands on time after lunch to allow for practice of our new found propagation skills. There will also be an onsite 'show and tell' from our hosts. Bring along any cuttings etc if you'd like to try something specific.
Programme:
10-10.30am registration, coffee, branch news and introduction - Tea/coffee on arrival. Please bring your own lunch and cup.
10.30am-12pm - Warren talk
12-12.30pm - walk around and property owners show their propagation/grafting work
12.30-1.15 - lunch (bring your own)
1.15 - 3pm - practical in the workshop
Event may be postponed or cancelled due to Covid19. Please note that there will be a full refund if the event is cancelled due to Covid19 or you can't make any postponement date. In addition, if you are feeling unwell on the day please notify us, stay at home, and a full refund will be given. This will still apply at level 1.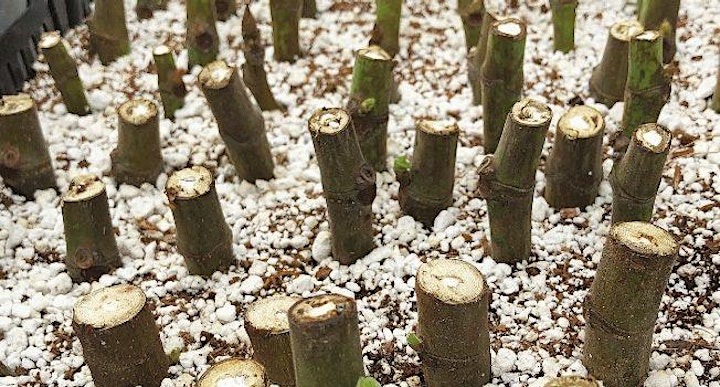 Organiser of Growing new plants for free – come and learn the art of propagating
Our Mission: Sharing knowledge to improve tree cropping in New Zealand – promoting 'tree crops'
The New Zealand Tree Crops Association (NZTCA) is a voluntary organisation promoting interest in useful trees, such as those producing fruit, nuts, timber, fuel, wood, livestock fodder, bee forage and other productive crops. 'Tree Crops' is the affectionate abbreviation by which NZTCA is widely known.
The Association grew out of a philosophy of seeking and sharing information about the many and varied types of trees we might grow in New Zealand to produce a useful crop, be it for humankind or animals.