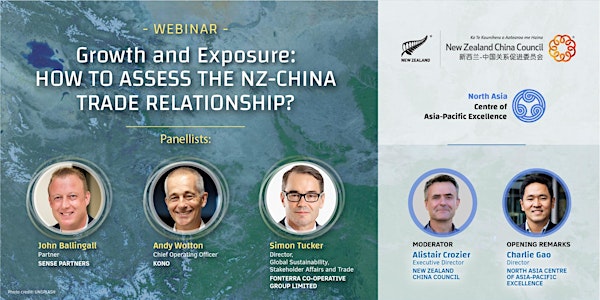 Growth and exposure: How to assess the NZ-China trade relationship?
Sales Have Ended
Registrations are closed
Thanks for registering for the workshop. Look forward to seeing you soon.
Sales Have Ended
Registrations are closed
Thanks for registering for the workshop. Look forward to seeing you soon.
The NZ China Council released a new report commissioned from Sense Partners. Join us for an briefing by report author John Ballingall.
About this event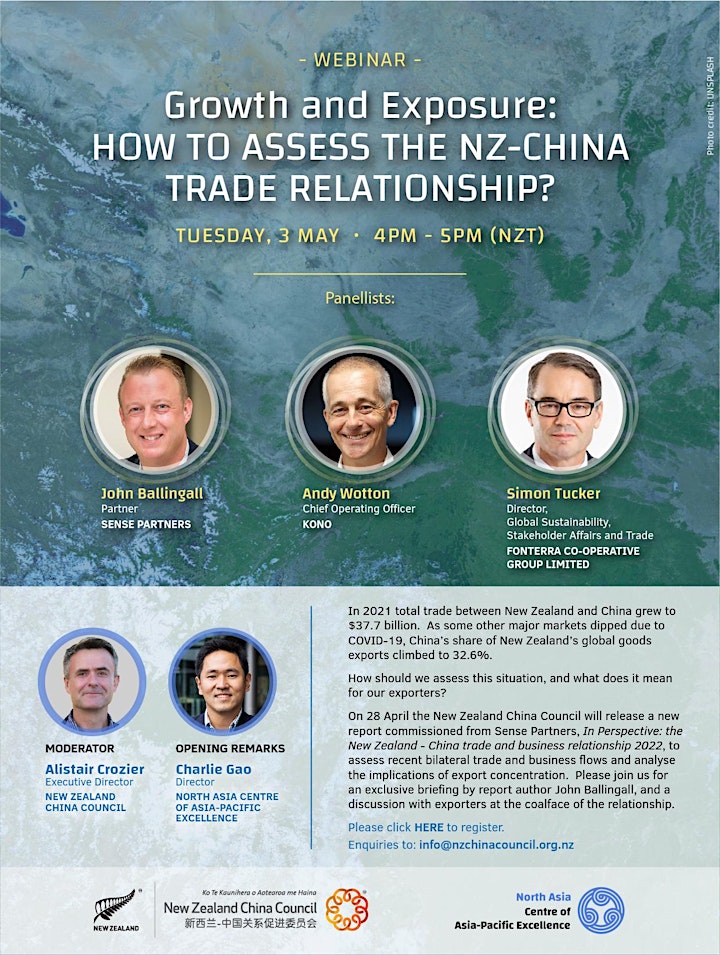 Panelists:
John Ballingall, Partner, Sense Partners
John joined Sense Partners in early 2019 after a decade of being NZIER's Deputy Chief Executive. He previously worked for MFAT as Deputy Director in its Economic Division.
He has worked on the big policy and business issues of the day for New Zealand and overseas clients for over twenty years; with a focus on Computable General Equilibrium (CGE) modelling, trade, development, climate change, the primary sector and sustainability.
Andy Wotton, Chief Operating Officer, Kono
Andy Wotton is Tumu Kōkiri o Kono (Chief Operations Officer, Kono) for Kono, the food and beverage business of Wakatū Incorporation. Andy has been a partner at PwC, a large advisory firm, and since 2016 has been working with a range of leaders and leadership teams as an executive coach. In this capacity he has previously supported the Wakatū senior leadership team and the Kono senior management team. Andy has also worked on a number of commercial projects through management and governance roles with businesses in aviation, farming, recycling and waste reduction, on-line retail and nutraceuticals.
Simon Tucker, Director, Global Sustainability, Stakeholder Affairs and Trade, Fonterra Co-operative Group Limited
Simon Tucker is Director of Global Sustainability, Stakeholder Affairs and Trade at Fonterra. In this role he leads teams responsible for Fonterra's global trade strategy, its corporate sustainability and environmental partnerships programmes, the company's relationships with New Zealand and foreign governments, and Fonterra's industry partners.
As a member of the Co-operative Affairs Leadership Team, Simon's role contributes to the execution of Fonterra's strategy – particularly in terms of trade access, management of geo-political risk, development of world-leading environmental sustainability credentials and the Co-operative's efforts to enhance its national and global identity and reputation.
Simon has spent over twelve years in the New Zealand dairy industry including in leadership roles at DairyNZ, the Dairy Companies Association of New Zealand and with Fonterra Co-operative Group's US-based business and at its head office in Auckland.
Moderator
Alistair Crozier, Executive Director, New Zealand China Council
Alistair has had an extensive career in New Zealand-China diplomacy. He established and led New Zealand's new diplomatic post in Chengdu, Southwest China, as Consul-General from 2014 to 2019. He was New Zealand's first Education Counsellor to China in 2003-05, and has served in a number of other diplomatic and policy roles for the New Zealand Ministry of Foreign Affairs and Trade in China and the wider Asia-Pacific region.
Alistair has considerable on-the-ground experience in Asia. He has managed crises in education and food safety, negotiated market access for a range of export sectors, and opened new opportunities for New Zealand companies in China. He is a fluent Chinese speaker.
Most recently, Alistair worked as Director of the Office of the Mayor of Christchurch, and was the Business Programme Director and South Island Manager at the Asia New Zealand Foundation, where he led a programme supporting New Zealand companies to better understand Asia.
Opening remarks
Charlie Gao, Director, North Asia Centre of Asia-Pacific Excellence
Charlie Gao is the Director at North Asia Centre of Asia-Pacific Excellence (North Asia CAPE). In this role, Charlie leads the North Asia CAPE team and work with colleagues in the broader Centres of Asia-Pacific Excellence (CAPEs) organisation. Prior to joining North Asia CAPE, Charlie was the managing partner of a New Zealand-owned, China-focused investment & advisory firm. He led advisory mandates for companies such as Zespri, Weta Workshop, Les Mills International, and Fonterra, and managed assets on behalf of the development finance banks of Germany, France, and the Netherlands.