Join us collectively walk the length of NZ for mental health on Gumboot Friday at 12 pm in Hamilton's CBD! 5km, spot prizes, games and more!
About this event
Grab your gummies and hit the Garden Place and River Walk pavement for Gumboot Friday!
We aim to collectively walk the length of NZ, which is 2090km, to do this we need 418 people to join in, Boots N All, on the 5th November!
For people struggling with depression, it can feel like walking through mud EVERY DAY! We are asking you to put yourself in their boots for the day and walk with us!
Join us at Garden Place for our 5km fun run/walk around the CBD and River to help raise money for Mike King's I Am Hope Charity! All profits will go towards helping young kiwis battling mental health daily in Aotearoa!
After the walk join us in Garden Place for Gumboot Games, there will be spot prizes, sporting stars and more! Make sure you get involved, take a break for your wellness and support the Gumboot Friday movement!
This event is proudly brought to you by Hamilton Central Business Association, The Breeze Waikato and The Good Day Matrix, and has support from a bunch of local businesses keen to support kiwis mental health!
This event is a Level One event due to number restrictions currently in place in Level Two. However if we are still in Level Two when the event is to take place we still encourage you to do your part and walk 5km on the day in your gumboots, as all profits will still go towards Gumboot Friday!
Below is a map of the track we will be walking on the day for anyone wondering what the loop looks like!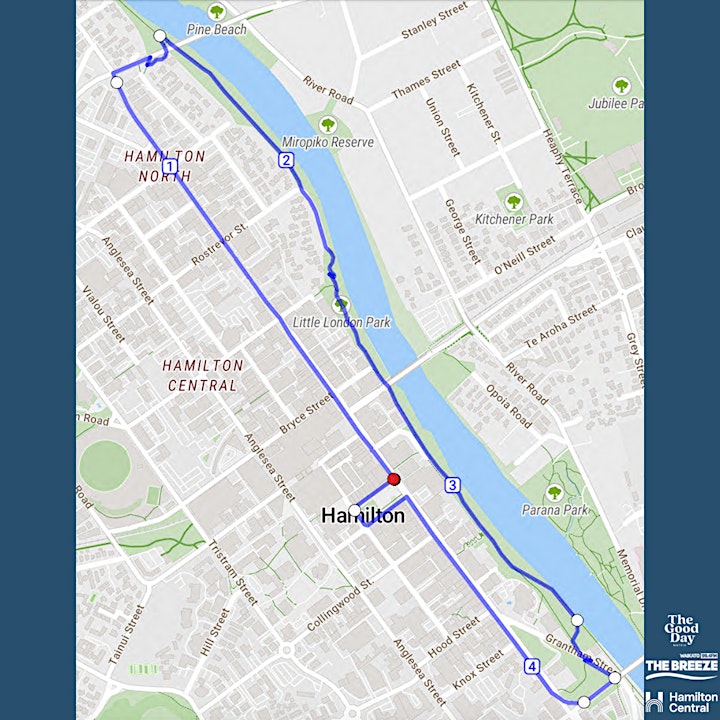 *This is a Non-Refundable event. All profits made will go to Gumboot Friday regardless of whether the event can take place relative to COVID alert levels. We encourage you to participate in Level one in person at our event as well as if we are in Level Two by walking 5km towards helping us achieve our goal and to raise awareness for Gumboot Friday!