This hands-on experience will explore an essential commodity in our current world, hand sanitizer, through a presentation and demonstration.
About this event
Good hand hygiene is essential to prevent the spread of microorganisms. In the weeks before the COVID-19 lockdown, New Zealand experienced a scarcity of hand sanitizer. Dr Shyamal Das and his students at the University of Otago's School of Pharmacy prepared the World Health Organization's recommended hand sanitizer to serve the local community.
Dr Das and his team will give a presentation followed by a demonstration and hands-on experience about hand sanitizer, an essential commodity to prevent COVID-19. Participants will learn the science behind hand sanitization, understand safety issues related to hand sanitizer, observe the preparation of alcohol-based hand sanitizer in the laboratory, and learn how to detect a substandard alcohol-based hand sanitizer. All participants will also receive a sample of this hand sanitizer.
All children must be accompanied by an adult. Limited space available - registration required for all attendees.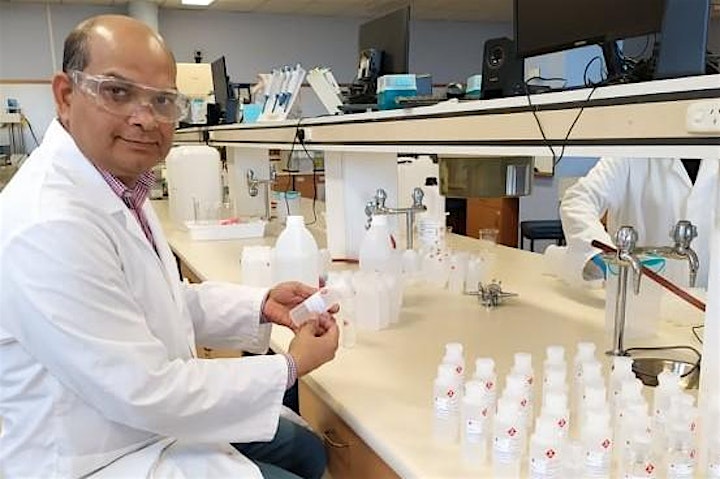 Dr Shyamal Das is a senior Lecturer in Pharmaceutical science at the school of Pharmacy, University of Otago. He is an internationally recognized formulation expert with over 15 years of experience in dry powder inhaler technology. Dr Das supervises a large productive research group which focusses on drug delivery to the lung to improve therapy for chronic lung conditions such as asthma, chronic obstructive pulmonary disease, cystic fibrosis and tuberculosis. He is currently contributing to the development of inhalers to treat coronaviruses in collaboration with academia and industries. Dr Das completed his PhD and research fellowships at Monash Institute of Pharmaceutical Sciences. He was a visiting researcher at the University College London (UK), Imperial College London (UK) and the University of Texas at Austin (USA). Due to a shortage of hand sanitizer in the market in the weeks leading to lockdown, Dr Das has lead a voluntary project to produce hand sanitizer to support the community during the current COVID-19 pandemic. So far his research students have produced about 1200 litres of hand sanitizer for use by the University's essential services and colleges. The University has also provided support to Civil Defence, the Police including Canterbury Police, Fire and Emergency, St John Ambulance Service, and many others. Dr Das is also an award-winning passionate lecturer. He has won multiple awards for best teaching and supervision at the University of Otago.