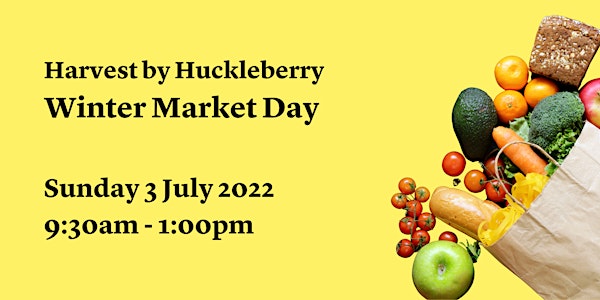 Harvest by Huckleberry Winter Market Day
Location
Harvest by Huckleberry
403 Richmond Road
Auckland, AKL 1021
New Zealand
Join us for a delicious, fun-filled Winter Market Day this Sunday 3 July.
About this event
Huckleberry Market Days are back!
We have lined up an exclusive in-store tasting, discounts and giveaways if you shop with these amazing brands: No Ugly, Opito Bay Salt, LILO, Wyld, Coyne Healthcare, Ayurveda New Zealand's Sattva Botanicals™ and Ceres Organics fresh produce.
Date: Sunday 3 July 2022
Time: 9:30am - 1:00pm
Venue: 403 - 407 Richmond Road, Grey Lynn Auckland
Our Naturopath Catherine will be at Harvest this Sunday from 9:30am to 1:00pm and she highly recommends the Coyne Healthcare range by Natural Health Trading and Ayurveda NZ's Sattva Botanicals™.
Backed by ongoing clinical studies and R&D, Coyne Healthcare offers products at the highest global standards that are trusted by medical professionals. Their products are free from all artificial additives, GMO, gluten, soy or sugar and suitable for vegetarians or vegans (except for Purest Omega).
Ayurveda NZ is offering an exclusive 15% discount on Sattva Botanicals™ Chaywanprash (250g), an immunity support product which is perfect for winter. Chyawanprash, known as 'The Elixir of Life', is delicious and nutritious. Made from organically sourced Amalaki fruits, rich in vitamin C and antioxidants, and 37 additional organically sourced healing herbs. Following the traditional Ayurvedic recipe this ancient formula is rejuvenating, energising, supports digestion and boosts the immune system.
Come and discover the health benefits of Coyne Healthcare, plus have a taste of Chaywanprash this Sunday!
Visit our web store: https://huckleberry.co.nz/