HAUMI: Kia kotahi te iwi, kia haumi te waka | One people, one waka, one journey. Wynyard Quarter celebration - Pōwhiri
About this event
On Saturday 7 August from 8am – 5pm, we'll be celebrating the people, places and spaces of Wynyard Quarter with a day of FREE entertainment, workshops & activities.
It's been 10 years since Wynyard Quarter opened to the public in 2011, and Haumi is a celebration to acknowledge the past, the present and look together to the future.
HAUMI means to join all together – and this whānau-friendly day represents the essence of all people in our place (Wynyard Quarter) living, working and playing together.
Kia kotahi te iwi, kia haumi te waka. One people, one waka, one journey.
The day will begin with a pōwhiri to open this special occasion and you are warmly invited to join us to be a part of this experience.
You will be guided through the pōwhiri by our Kaitautoko and He Pia He Tauira rangatahi who will share and explain the meaning of each step, so that we will be able to engage in the experience all together.
Manuhiri (visitors) will be welcomed to Wynyard Quarter by Tangata Whenua (people of the land) Mana Whenua, Eke Panuku , Te Puru O Tāmaki and Ngāti Whātua Ōrākei.
Pōwhiri details
Date: Saturday, 7 August
Meeting time: 7:30am for an 8am start
Duration: 8 – 9.30am
Meeting place: Behind the waharoa (on the bascule bridge located between Eastern Viaduct and Te Wero Island)
We will come together for a kawhe (coffee) and kai (food) on Karanga Plaza after the formalities.
*Please register for catering purposes
Following the pōwhiri you are welcome to stay and enjoy the day of activities and celebrations taking place across Wynyard Quarter.
HAUMI event details
HAUMI: Kia kotahi te iwi, kia haumi te waka |One people, one waka, one journey
Date: Saturday, 7 August
Time: 8am-5pm
Location: Free family fun activities will take place Wynyard Quarter wide from Eastern Viaduct to Silo Park.
Full schedule here: https://bit.ly/3xcF4cS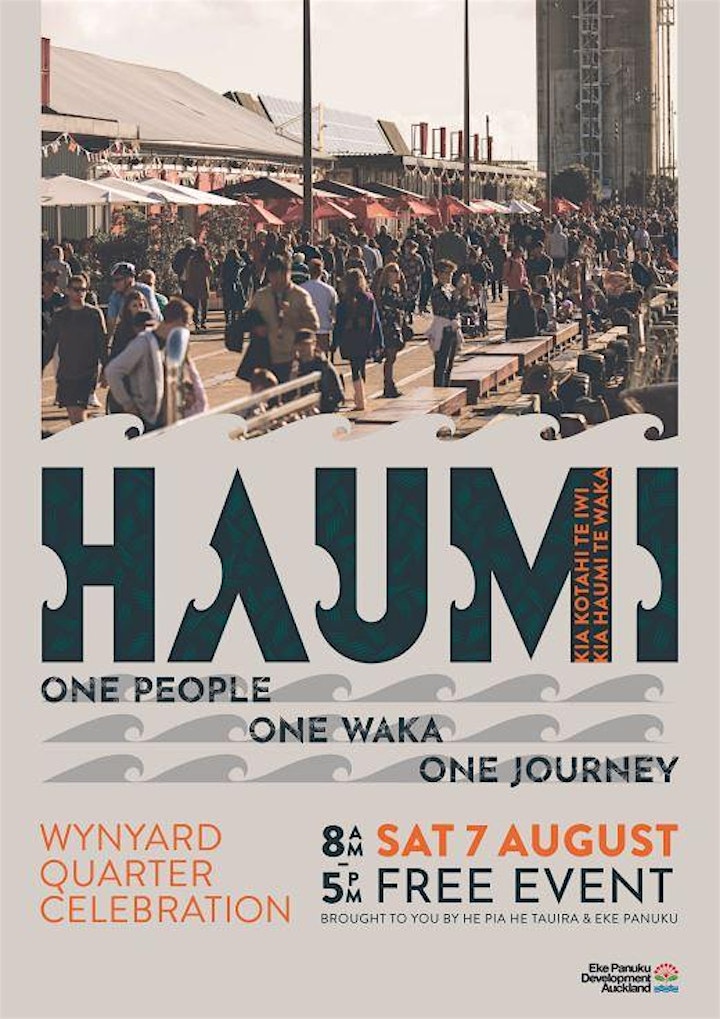 Organiser of HAUMI: Kia kotahi te iwi, kia haumi te waka - Pōwhiri