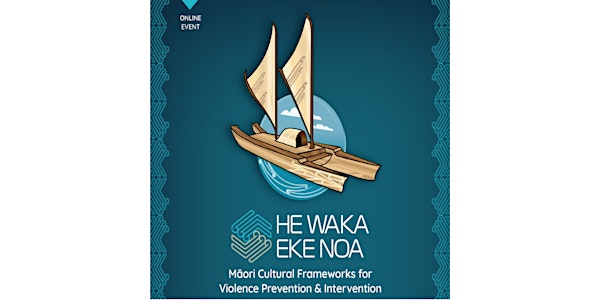 He Waka Eke Noa - Online Presentation Series - Episode 6
He Waka Eke Noa: Māori Cultural Frameworks for Violence Prevention and Intervention Online Presentation Series
About this event
He Waka Eke Noa
He Waka Eke Noa is a co-designed Kaupapa Māori project that is driven by Iwi and Māori social service provider aspirations to investigate the role of cultural frameworks in strengthening family and sexual violence prevention and intervention policies, practices and programmes. It is a collaborative approach with a range of Māori organisations that have met with Te Kotahi Research Institute over the past two years. We are seeking to make impact throughout the research process rather than operate on a notion that impact is achieved only on completion. As such, the team will be actively engaging with key agencies and organisations and Whānau Ora collectives. The project is grounded upon Kaupapa Māori theory and methodology and all components of the project are co-designed and co-produced whereby there is a strong commitment from all parties to ensure that tikanga, te reo, mātauranga Māori and whanaungatanga provide us with both cultural and ethical ways to progress this work to benefit whānau, hapū, iwi, urban Māori and Māori organisations.
'He waka eke noa' literally means to move a waka, a traditional Māori canoe, forward. As with many whakataukī (proverbial sayings) there is a deeper meaning embedded. In this case 'He waka eke noa' refers to the collective efforts that are required to move forward or towards achieving a particular goal. Within this research it refers to collective responsibility and obligations to wellbeing, and in particular to stopping Family violence within whānau, hapū, iwi and Māori communities.
'He waka eke noa' is a kaupapa Māori informed co-production of knowledge project that primarily focuses on Māori understandings of wellbeing and how that is impacted upon by violence. International evidence indicates that culture can be an effective 'buffer' in the area of family violence prevention and healing the impacts of violence (Balzer et.al. 1997; Walters xx).

Professor Bonnie Duran (Opelousas, Coushatta Descendent)
Indigenous Healing and Wellbeing from Family Violence and Trauma
Bonnie Duran is a Professor in the Schools of Social Work and Public Health at the University of Washington (UW), in Seattle. She has worked in public health and social care research, education and practice with a focus on Native Americans/Indigenous peoples and other communities of color for over 35 years.
Join us for a one-hour presentation delivered by Professor Bonnie Duran. There will be a 30-minute presentation followed by a 20-minute Q&A. This presentation will be recorded and uploaded for viewing later.
Contact for pātai:
Bernie Lee: ngawaiatetui@unitec.ac.nz mob: 0211644230
Herearoha Skipper: herearoha@gmail.com mob: 0272900158