Description
Our health and wealth are strongly linked:
As the Daiai Lama said, "Man surprised me most about humanity. Because he sacrifices his health in order to make money.
Then he sacrifices money to recuperate his health. And then he is so anxious about the future that he does not enjoy the present; the result being that he does not live in the present or the future; he lives as if he is never going to die, and then dies having never really lived."
Do you have a passion for health along with an entrepreneurial mindset?
Are you a self-starter, open-minded, driven, innovative and love learning?
You're invited to spend an FREE evening learning from two of New Zealand's leading nutrition and holistic health experts and entrepreneurs Dr. Monica Lewis and Carolyn Edwards at this educational and inspiring event.
Dr Monica Lewis will address five leading causes of premature death and what is happening to health in our world today. She will share simple but powerful strategies to help you start looking and feeling your best.
Carolyn will share her story of how she built a million dollar empire around her family and retired her husband out of his job.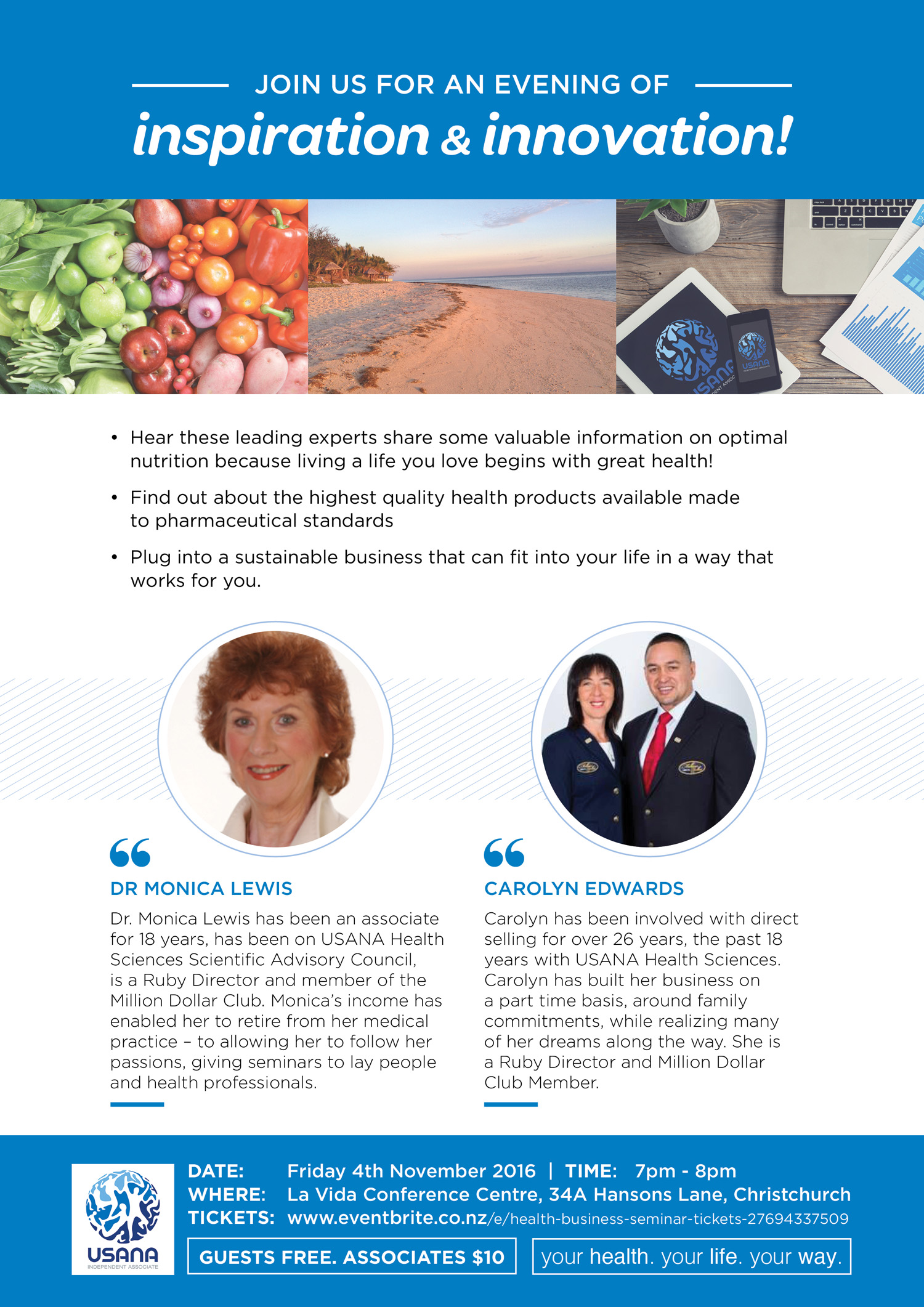 You will be rewarded with an introduction to a complete nutritional system for optimal health with an opportunity for a FREE health consultation and assessment with one of our health professionals.
In additional you will be rewarded with the chance to learn about:
--> Today's financial reality
--> The main ways to make money
--> How to diversify your income
--> Traits of an ideal business
--> WEALTH CREATION through leverage of time, team & finances
--> What is LEVERAGE? How to leverage time and money.
--> What is RESIDUAL INCOME? How to create it.
We will explore multiple ways to generate additional income and take your lifestyle to the next level.
Connect with like minded entrepreneurs who want to expand their horizons and create an inspired future.
If you want to find out more, are curious, or have always wanted more fun, freedom and health in your life then come along and spend the evening with us.