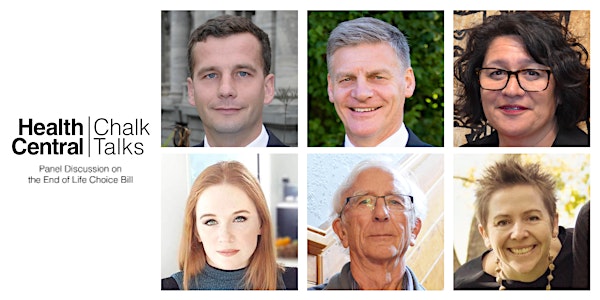 Health Central | ChalkTalks Panel Discussion on the End of Life Choice Bill
Location
NZME
Level 3
190 Taranaki Street
Wellington, 6011
New Zealand
Description
Following HealthCentral.nz's thought-provoking special feature series last year on death and dying in New Zealand, HealthCentral.nz is pleased to present its first ChalkTalk panel discussion on one of New Zealand's most significant and contentious issues: the introduction of assisted dying legislation.
Anyone with an interest in this topic, including people involved in clinical, nursing, aged care and hospice settings are encouraged to join us at NZME Wellington for an intimate evening of discussion and debate over wine and cheese led by our expert panel.
What?
Panel discussion on the assisted dying legislation, hosted by NZME's HealthCentral.nz
Up for debate
Contents and purpose of the Bill

Ethical considerations of the proposed legislation

Implications for health professionals

Impact on aged care and disability sectors

Experiences of other countries
Where?
NZME Wellington (190 Taranaki St, Wellington)
When?
5.30pm-7pm, Wednesday 3rd April 2019. Refreshments served 5.15pm, with discussion starting 5.30pm. (We are keen to hold our discussion after the report is tabled - due on 27th March - but before the Parliamentary debate and second reading)
Who?
Panellists include ACT Leader David Seymour, Former Prime Minister Sir Bill English, New Zealand Nurses' Organisation's Kerri Nuku, PhD student at AUT with a Masters in Health Science from Otago University, Claire Freeman, Head of the Division of Palliative Medicine at Queen's University in Canada, Dr Leonie Herx and Past President of the Voluntary Euthanasia Society of New Zealand Dr Jack Havill.
Format?
The discussion will take a question and answer format and it will be moderated by Jude Barback, HealthCentral.nz editor. Panellists will be given questions prior to the event but there will be an opportunity for audience members to ask questions from the floor.
Audience?
Limited to 50 people. We are striving for a relaxed, intimate setting.
Media coverage?
The discussion will be filmed and be shared on various NZME channels including HealthCentral.nz and related social media. It will also be used as the basis for subsequent articles on the topic.
Who are our expert panelists?
David Seymour is ACT Party Leader and the Member of Parliament for Epsom. David drafted and entered into the ballot the End of Life Choice Bill that would legalise Assisted Dying. The Select Committee is due to report back on the bill by the 27 March 2019.
Sir Bill English served as the 39th Prime Minister of New Zealand from 2016 to 2017, and was New Zealand's Finance Minister for 8 years prior to that. He was elected into Parliament in 1990 and was a National Party Member of Parliament until his retirement from politics in 2017. Sir Bill voted against the End of Life Choice Bill in the First Reading and has made a submission against the Bill to the Justice Select Committee.
Dr Jack Havill is a retired Intensive Care Medicine Specialist and was Director of the Waikato Intensive Care Unit for 26 years. In 2005 he was made an Officer of the NZ Order of Merit for services to medical research and intensive care. He is a past President of the Voluntary Euthanasia Society of New Zealand (now End-of-Life Choice Society).
Kerri Nuku is the Kaiwhakahaere for New Zealand Nurses Organisation (NZNO). She has represented NZNO at regional and national level and at international forums. Kerri was a member of the Ministry of Health delegation at the World Health Assembly in Geneva. Kerri is a member of Smokefree Nurses Aotearoa and a member of the Hawkes Bay District Health Board Māori Relationship Board, Komiti member of Maungaharuru Tangitu Trust and ICCN Audit Risk Committee.
Claire Freeman
Claire Freeman is a PhD student at AUT studying Health Science, with a Masters in Health Science from Otago University. She has the lived experience of someone with tetraplegia as a result of a car accident when she was 17 and has limited use of her arms and legs, using a wheelchair for mobility. She is a social justice activist and advocates for disability rights.
Dr Leonie Herx
Dr Leonie Herx is the Head of the Division of Palliative Medicine at Queen's University in Canada. She holds the W. Ford Connell Chair in Palliative Medicine, and co-founded the new Royal College of Physicians and Surgeons of Canada Subspecialty Programme of Palliative Care. Dr Herx works in a health care system where euthanasia is legal and practiced regularly.
Ticketing:
Tickets are extremely limited for this event.
• All tickets are: $40.00 + GST