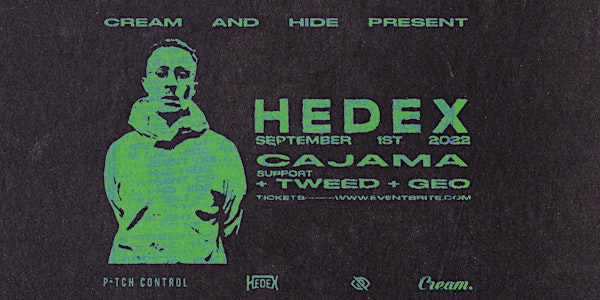 Hedex [UK] - CHCH
Particle [UK] play Hide Club
Location
Hide Club
172 St Aspah Street
Christchurch, 8011
New Zealand
Hedex plays Hide Club, Christchurch
About this event
Cream & Hide proudly present
Hedex (UK) // Thursday 1st September 2022 // HIDE
Tickets onsale Monday 8th August 7pm.
Get in quick, this will sellout.
With support from:
Guest: Cajama (UK)
Tweed
Geo
Hedex:
Having smashed into the year with a switch-flipping, iTunes-Top 20-denting grime track Ryan Air with MC Window Kid, he's since followed it up with his own brand By The Producer. Armed with the motto 'by the producer for the producer', it kicks off with a series of samplepacks from some of the best in the bass game. It launched with Annix last month, Heist is up next and Hedex – real name Jack – tells us that's the tip of the iceberg.
Yet another entrepreneurial twist in the Hedex tale, By The Producer is the latest in a growing line of endeavours he's explored within the game since emerging, aged just 16, on Train Records and signing to Guv's Dubz Audio a year later; last year he launched the Gank clothing brand, a few years before that he ran a social media consultancy company. Impressive considering he's only 23.
Most importantly, though, he's been one of the most successful new generation jump up artists to emerge since the mid 2010s and has been so prominent in the stripped-back Belgian sound, many people thought he was actually Bruges born and bred. He's not, he's actually based in Cambridge… But he is holding his birthday bash in Antwerp tomorrow at Skankmania.
With plenty more beats, bashes, and no doubt businesses to come, you get the feeling that even after six years Hedex is only warming up. This is how he got here…
Cajama:
Born and bred in Doncaster, South Yorkshire, Callum MacDonald – stage name Cajama – developed an addiction for the aggressive sound of hardstyle and hardcore from a very early age. With no musical education to speak of, DJing at house parties enabled him an early form of escapism ande xpression.One of MacDonald's primary influences was Double 99's RIP Groove (1997). Widely considered a speed garage classic, it gave him his first taste of the UK bass/garage scene. In 2015, his interested in music production was detonated when a friend introduced him to FL Studio. Hungry to experiment, the 17-year-old apprentice loaded the software onto his laptop one evening while working on the graveyard shift at a network operations centre. Initially preoccupied by the emergence of future house pioneered by the likes of Oliver Heldens in the 2010s, it was only after attending Rotherham's Fear-Fest festival in 2018 that MacDonald rediscovered his attraction to UK bass/garage. From that moment he set about transitioning towards creating his signature UK bass sound, but with a twist: "I didn't come into the bassline scene to just blend in or go with the wave. I came from an EDM vibe and tried to match that with bassline to create a more developed version."