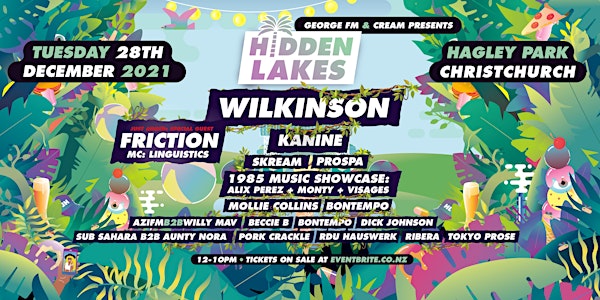 Hidden Lakes Festival | 2021
Cream Events & Red Rum Touring
Performers
Wilkinson
Kanine, Skream!, Prospa, Mollie Collins, Azifm, Willy Mav, Bontempo, Dick Johnson, Tokyo Prose, Alix Perez, Friction, Monty, Visages, Linguistics, Hybrid Minds, Hybrid Minds
Location
Hagley Park Events Triangle
57 Rolleston Avenue
Christchurch
New Zealand
About this event
Cream & Red Rum Touring present
HIDDEN LAKES FESTIVAL l 2021
Tuesday 28th December (Public Holiday - Boxing Day observed) Hagley Park, Christchurch
Hidden amongst the beautiful trees on the lake's edge of North Hagley Park you'll find Hidden Lakes Festival.
Lineup:
Wilkinson (UK)
Kanine (UK)
Hybrid Minds (UK)
Friction (UK)
Skream (UK)
Prospa (UK)
1985 Music feat. Alix Perez, Monty & Visages (NZ/FR)
Mollie Collins (UK)
Nice Girl
MJ
Azifm b2b Willy Mav
Beccie B
Bontempo
Dick Johnson
Hurricane Emily
Pork Crackle
RDU Takeover
Ribera
Tokyo Prose
Eat, drink, dance and experience 10 hours of phenomenal International, national + local talent across 2 stages in one of the most incredible event locations New Zealand has to offer.
Everybody love everybody! Cream and Red Rum are committed to being a safe and all-inclusive space. Any discrimination, harassment or anti-social behaviour of any kind will not be tolerated. If you are feeling uncomfortable in any way, please notify security, a member of staff at the bar, entrance or DJ booth.
We can't wait to see you!
WHAT IS HIDDEN LAKES REFUND POLICY?
HIDDEN LAKE has a strict no refund policy. Should you no longer be able to make HIDDEN LAKE, you will be required to sell your ticket via our official resale partner Tixel.
IN THE EVENT OF POSTPONEMENT
Should HIDDEN LAKE be rescheduled to a new date, ticketholders will be entitled to keep their tickets for the new date. Should they no longer be able to make the new dates, customers will be entitled to a full refund.
IN THE EVENT OF CANCELLATION
In the unfortunate event of a cancellation of HIDDEN LAKE ticketholders will be given the option to rollover their tickets for the next festival.
Should they wish, Ticketholders will be given the option for full refunds which will be made available at the point of purchase. That is why it is important that you purchase via Resale and not privately. Ticket funds are refunded to the credit card which purchased the tickets.